If you've been searching for "How To Get A Google Knowledge Panel," you have finally arrived in the right place.
We can create a Google Knowledge Panel for anyone.
That's right – and you don't have to be a celebrity or even be a business owner.
This is a spectacular way to make yourself look like a VIP online, whether it's to impress colleagues, business associates, or even a potential date!
The process is fast and affordable.
Get a quote by contacting us.
Google Knowledge Panel Overview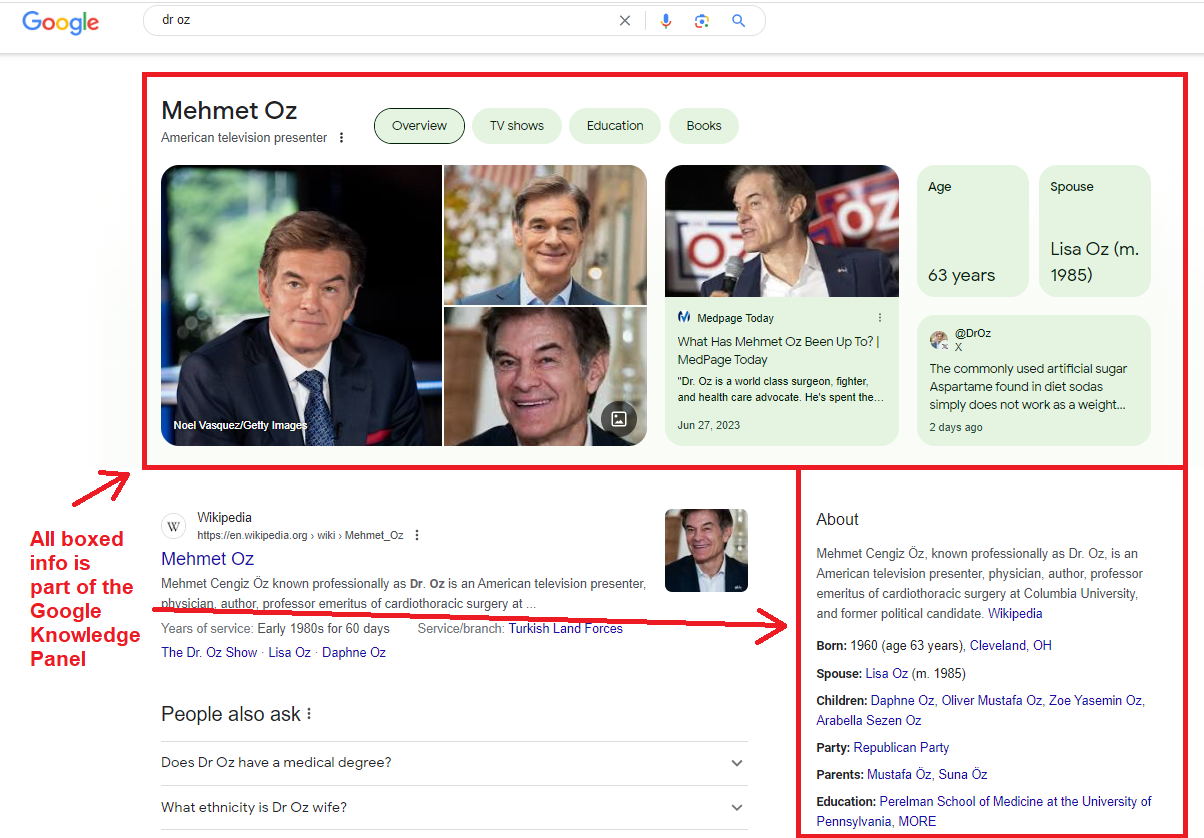 Check out the professional look of Dr. Oz's Google Knowledge Panel.
Everything in the red boxes is information contained as part of the panel.
Imagine how you'll look in front of your peers and fellow entrepreneurs with your own knowledge panel!
If you've tried to create your own panel and become frustrated waiting for Google to take note of your accomplishments, we will create one for you and it only takes a few weeks.
Please watch our video as we address many of the questions (include timeline/price) that you might be thinking about.
Advantages Of Creating A Google Knowledge Panel
As discussed in the video above, there are two big advantages to having your own Google Knowledge Panel.
Prestige
Page One Real Estate
Let me explain each advantage.
Prestige
Most people don't know a thing about Google Knowledge Panels.
They just assume that because this person is well-known, that's why Google is publishing a lot of information about them.
We've come to expect to see this type of data for actors, musicians, politicians and many other types of famous people who are in the public eye.
Therefore, if you have your own panel, people will think, "This person must have some level of importance because Google has published all of this cool information about them."
Having your own panel is like the polish on your online reputation.
It can highlight all of your finest work, business pursuits, and biographical information.
If you're looking to protect your reputation, you know appearances matter.
The Google Knowledge Panel is one of the best ways to impress others and look good online.
Page One Real Estate
The second big advantage is if you have a Google Knowledge Panel, it is the first thing people see when they Google you.
Since the panel appears at the very top before any search results, it will automatically sit above and beside all links.
The knowledge panel, also known as a knowledge graph, takes up prime real estate atop page one.
It's almost like getting published in Wikipedia and having that rank #1.
But the good news is, you don't need to have a Wikipedia page to get a Google Knowledge Panel.
You also don't have to be rich to afford one.
Google anyone famous and look at how much premium space is taken up by their knowledge panel.
Now, you can have one, too.
Keep reading to learn how to get yours or jump ahead to How To Get A Google Knowledge Panel.
Can I Create A Google Knowledge Panel Myself?
For kicks, I Googled, "How To Get A Google Knowledge Panel" and these were the step-by-step directions I saw at the top.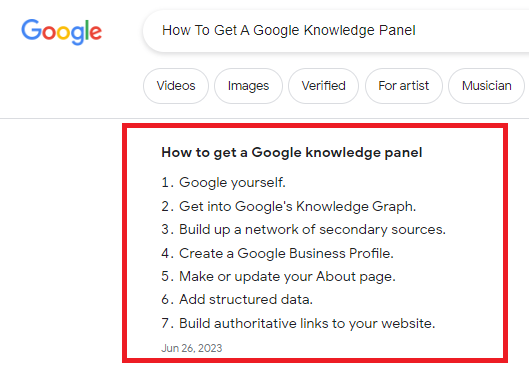 Good luck.
First of all, ordinary people with no knowledge of SEO or link building are going to be able to execute the 7 steps that are listed.
And even if you did, there's still no guarantee that Google will recognize you with your own panel.
Our method is guaranteed to work, costs a fraction of what you'd spend with an agency trying to do it for you, and only takes a few weeks.
How To Get A Google Knowledge Panel?
Contact affordablereputationmanagement.com
Provide your name, social media, images, videos and any other relevant information
We'll get you a firm quote and if you decide to move forward, you'll have your shiny new Google Knowledge Panel completed in no time.
You might also like: How To Get a Wikipedia Page (Guaranteed)
How To Claim Your Google Knowledge Panel
If you have a Knowledge Panel and it's unclaimed, follow these steps to claim it.
You can also follow along with my personal step-by-step instructions with screenshots in the Case Study.
Make sure you are logged into your GMAIL account
Google yourself and click "Claim this knowledge panel"
On the new screen that opens, click "GET VERIFIED"
Click "I am a person with a knowledge panel"
Under "Which knowledge panel do you want to claim?" click the 3 dots below your name >> share >> and click to copy the short link. Copy and paste to the box.
Under "What is your name as shown in the knowledge panel?" put the same name that you searched for
Under "Tell us why you are claiming this knowledge panel," you can just put, "I want to claim my knowledge panel because I want to edit some information in the panel."
Under "What is your full legal name…." put your full legal name as it would appear on your driver's license or passport. Include full middle name.
Then select your country and language
For the "Selfie with ID," take a selfie while holding your government issued ID and upload it. Both your face and the face on your ID need to be visible. You do not have to upload an additional selfie as long as you see a message saying "Image quality is good."
For Web Profiles, provide the exact link and screenshot of each of your social media, like Instagram, Facebook, LinkedIn, TikTok, etc. You can add up to 5 profiles.
Finally, click the box starting with, "I understand that the information I submit…"
Hit Submit
You will see a confirmation message like, "Thanks for submitting your information. We'll review it and get back to you soon at [your GMAIL]. If you have any questions….."
Check your GMAIL for a confirmation message within 24 hours.
Case Study: How I Got A Google Knowledge Panel
In an effort to show our clients how this works, at the time of making our video "How To Get A Google Knowledge Panel – For Anyone" on September 7, 2023, I did not have a Google Knowledge Panel.
Matt suggested, "Let's get you one and asked me to provide a short bio and images."
Here's what I provided to him:
Mike Munter is an internet entrepreneur. He is the owner of multiple online businesses, including AffordableReputationManagement.com, MikesPet.com, MikeMunter.com, and Inspirery.com. He is a former computer network technician and general manager of the Bowie Baysox, Double A affiliate of the Baltimore Orioles.
Born and raised in Baltimore, Maryland, Mike moved to Portland, Oregon in 2004, where he currently resides.
I sent these two images.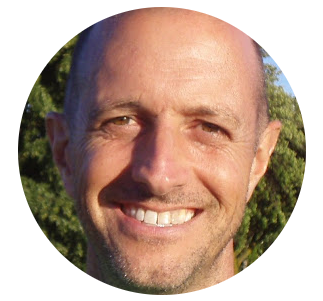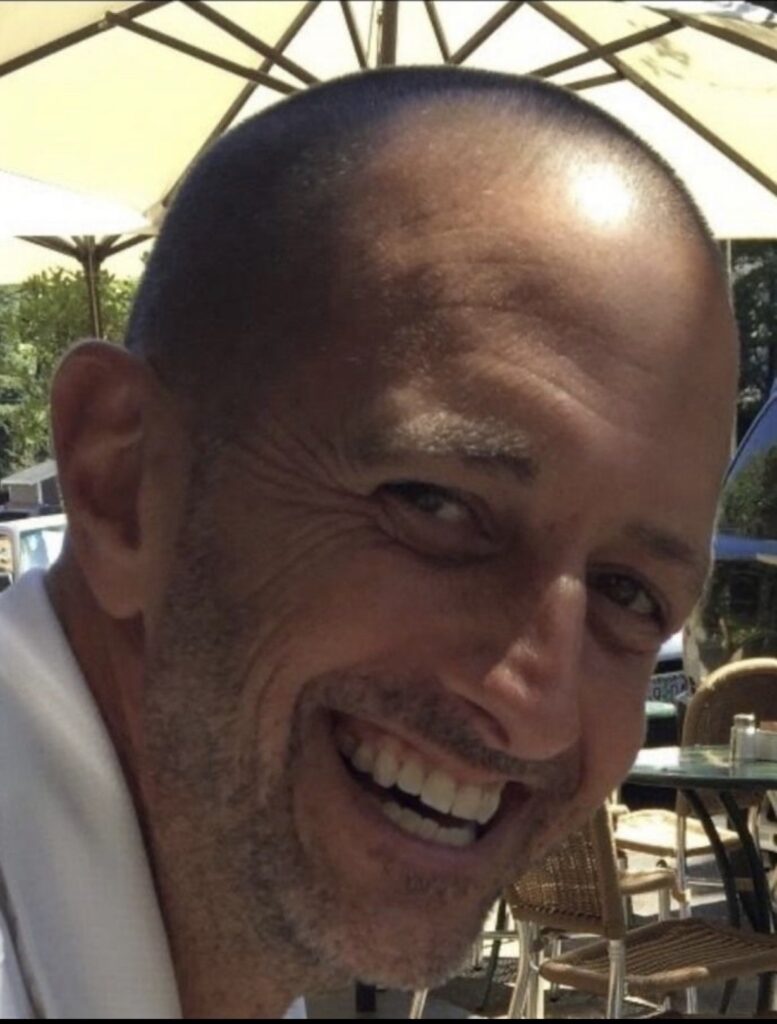 Within 5 days, I had the Google Knowledge Panel pictured below, although the bio and pics were not accurate.
This is what I saw when I Googled my name.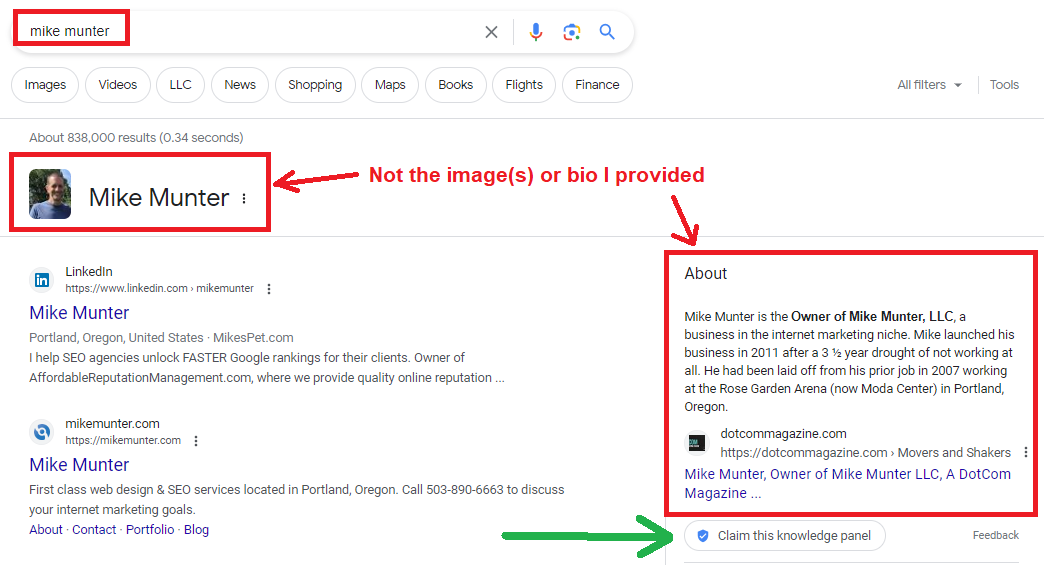 We let our support contractor know that the Panel was showing, but that the bio and image(s) were incorrect.
I was instructed to Claim the Knowledge Panel, which I did by clicking the option to do so. (see green arrow above)
I was then taken to a new page to "Get Verified," which I clicked.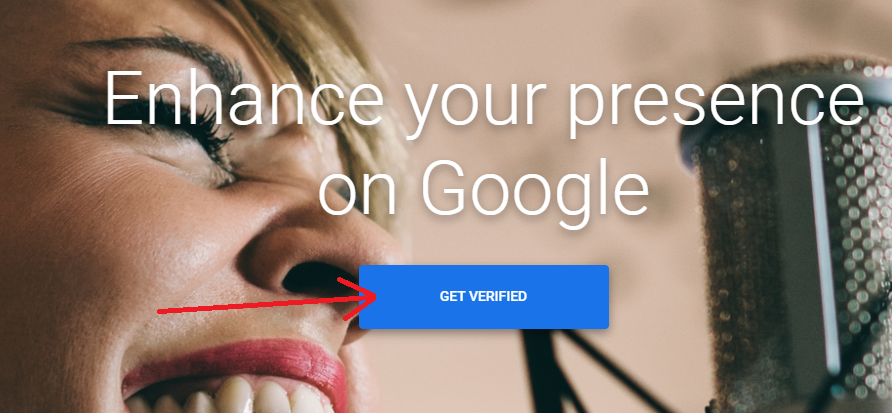 I was then taken to a new screen to Get Verified and from here and just followed the 13 instructions from above.
The screenshot below steps 4-7, which are slightly different because I am actually the person claiming my own panel.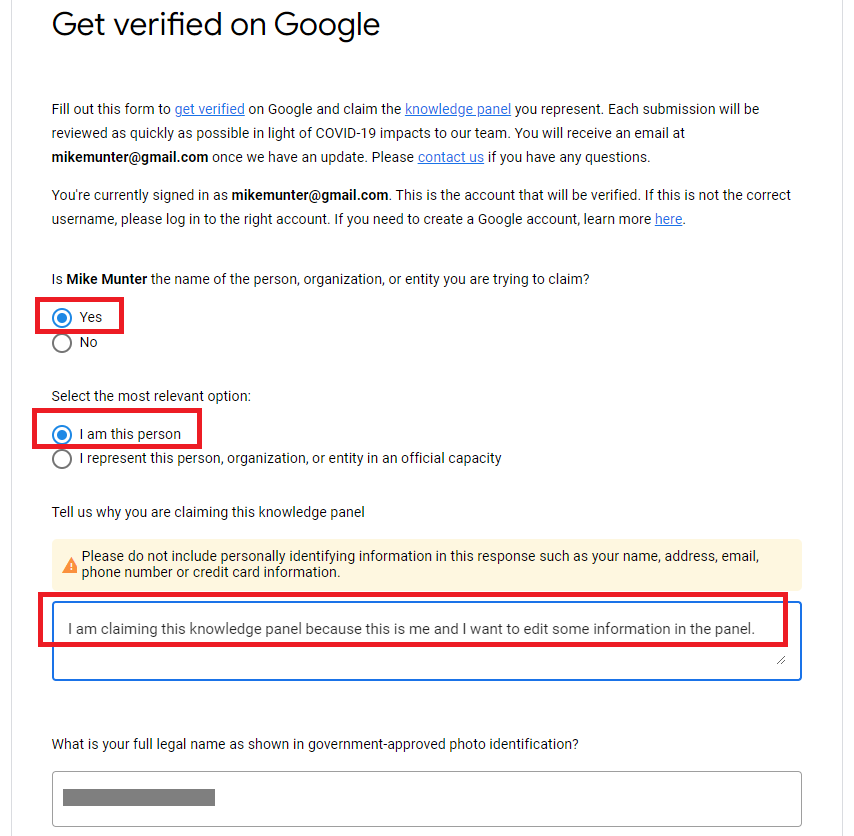 See the image below for Steps 9-10 from above instructions.
Since my selfie image quality was good, I did not upload any additional selfies.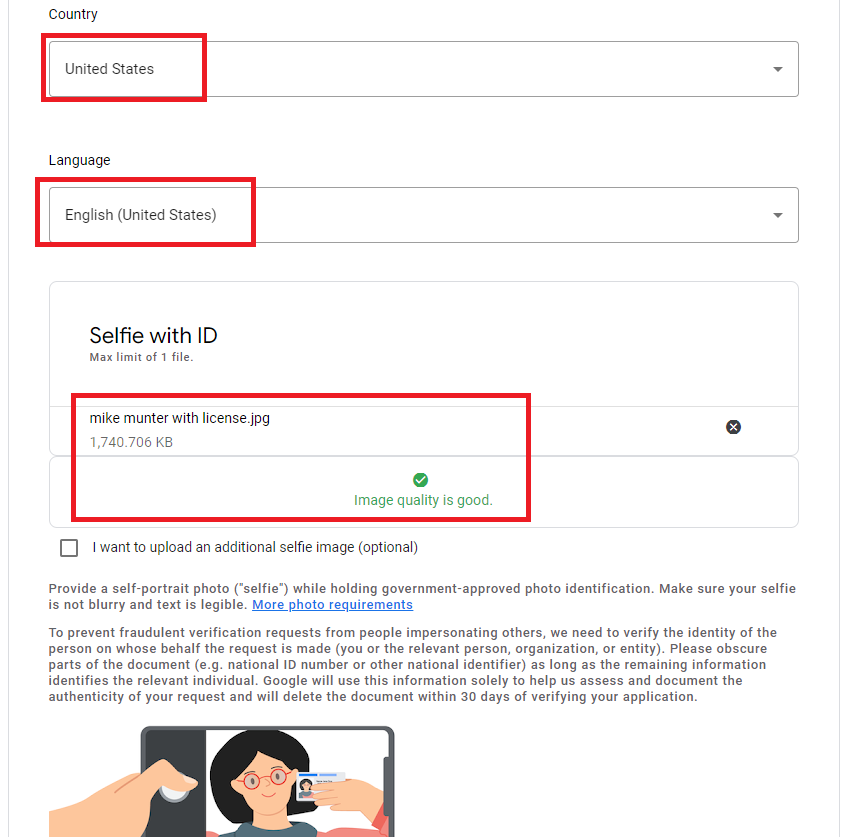 For Step #11 above, Google suggested Twitter and LinkedIn, so I completed both of those, as shown below.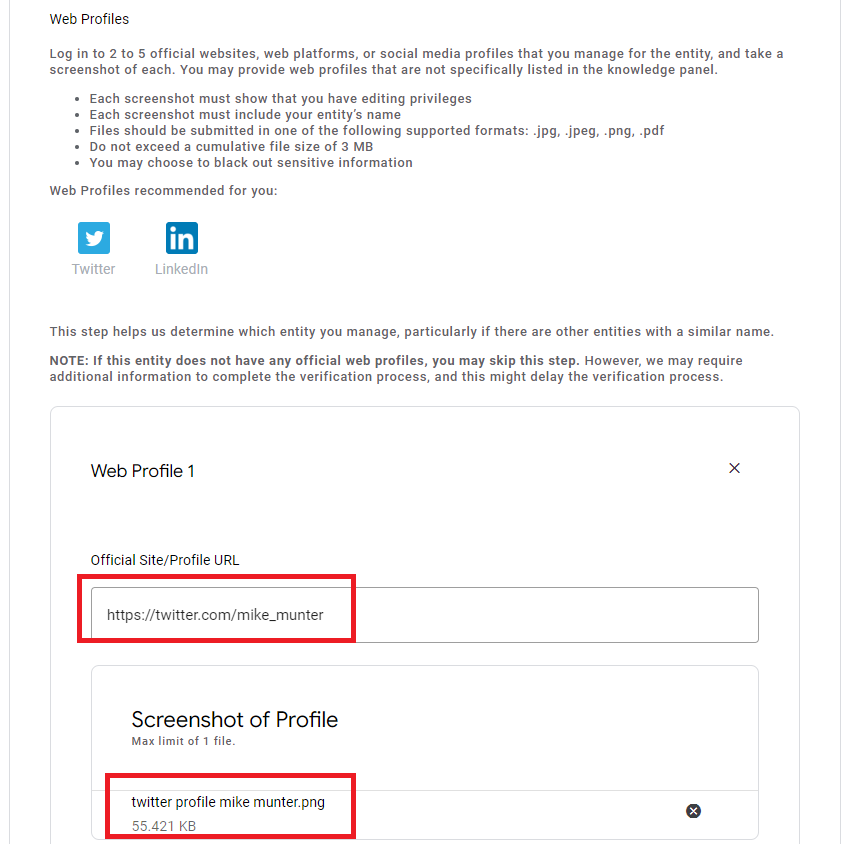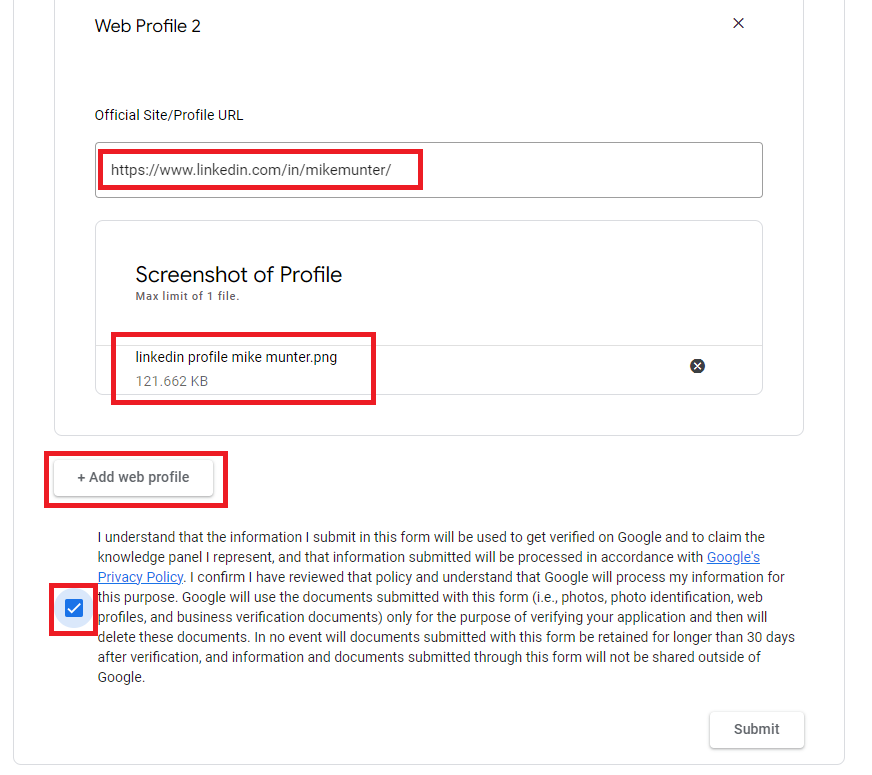 I also chose to add an additional web profile for Facebook and then I hit Submit and got the confirmation message below.

After about another week, my knowledge panel was updated again per below.
Still not exactly the images I wanted showing, but overall I'm happy with it.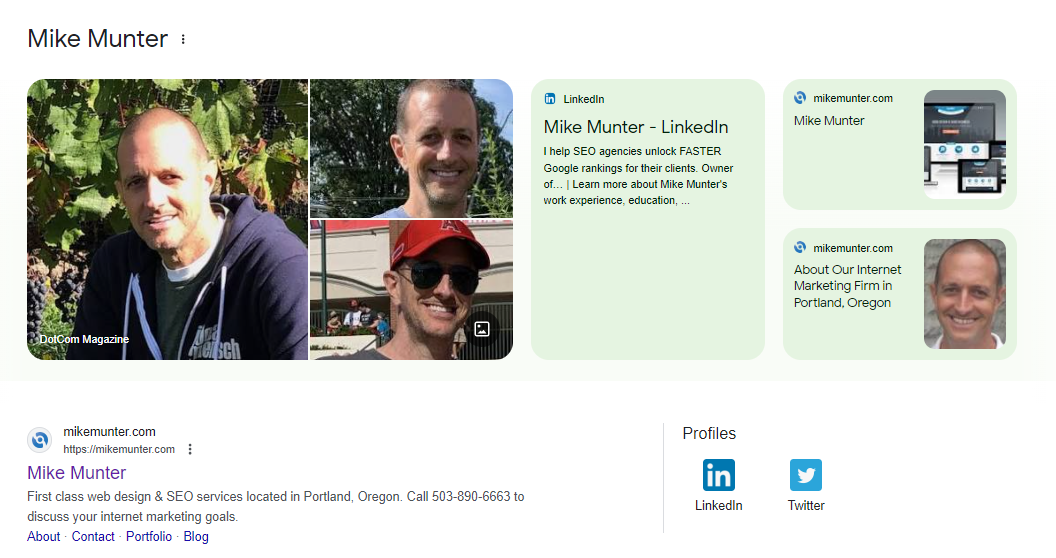 Get Started
I hope you can see the impact of having your own Google Knowledge Panel for your online reputation.
It's an easy way to make yourself look like a household name and the best part is that you get to control what people see when they Google you.
Get started by contacting us for a quote.