We can remove Glassdoor reviews that are negative, fake or defamatory toward you or your company that appear on Glassdoor.com.
We can also help you get new reviews published to Glassdoor, thereby improving the rating of your employer profile.
The process takes 1-4 weeks and is fully guaranteed – you only pay for those reviews we completely remove from your Glassdoor page.
To find out which route is best for your business, please contact us by completing the online form on this page.
Glassdoor Overview
Glassdoor.com is a jobs website that helps match employers with employees.
For employers, you can create a free business profile that describes what you do and you can use it as a recruitment tool for posting available jobs.
For employees, it's a place to learn about companies by getting feedback from others who work there.
And this is where the problems can come in. Comments are unmonitored, so anyone can say anything about your business and this can appear as a negative when people Google you.
For most businesses, a rating of 4 or better is usually acceptable – you can't please everyone – and disgruntled employees are always going to be inclined to bitch about it.
So, if you get too many people complaining, removing a few of the complaints can improve your Glassdoor rating and improve your company's overall online reputation.
We are experts in removing negative comments/reviews from Glassdoor. We've removed from the site many times for companies large and small.
Request a quote to see if our removal service fits into your company's budget.
How To Delete Glassdoor Employer Reviews
While Glassdoor offers step by step directions for employees who wish to edit or delete a review they left in the last 30 days, it's not so easy for an employer.
In fact, Glassdoor offers employers 4 ways to handle negative reviews, which you can certainly try yourself. Here's my take on the 4 methods for review removal that Glassdoor offers:
Flag them – If you flag a Glassdoor review for removal, the only way Glassdoor will remove it is if it violates their terms of use. Here's a brief list of violations that are likely to be removed due to content violations. If the review contains any of the following, you might be able to flag it and get it removed.

Defamation – defamatory, libelous, or fraudulent
Harassment – harassing, threatening, abusive, racist, bigoted
Breaks the law – promotes illegal activities
Intellectual Property – violates privacy, copyright, patent, trademark
Sexual Expolitation – porn or sexually explicit

Respond to them – I would not recommend doing this as it does not solve the problem of removing the review. In fact, while it might feel good to set the record straight, responding to a review only makes your page stronger and more relevant to search engines.
Ask your employees to leave more reviews – I'm surprised Glassdoor mentions "getting more reviews" as a way to deal with a negative review, but they did, so I'll give my feedback on it. Most people – no matter how happy they are – will not take the time to write a review. If you need help getting more Glassdoor reviews, we can help you. The benefit to getting more good reviews is that it helps to improve your overall employer rating while also pushing down the negative review.
Take legal action – I'm not a lawyer, nor do I use attorneys to delete Glassdoor reviews, but if you certainly can hire an attorney if steps 1-3 don't work for you.
I guess the important thing here is our Glassdoor review removal service is guaranteed. If we can't get the negative review permanently removed, you don't pay.
How To Flag A Glassdoor Review For Removal
First, find the review you want to flag and hit the little flag in the lower right corner of the review itself.

The flag will turn red as you hover on it and when clicked, it will open up the window below asking why you want to report the review.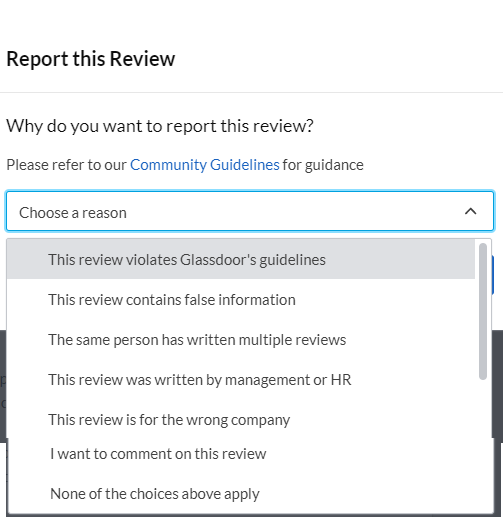 Here's a summary of each reason and my advice for how to proceed for best results.
This review violates Glassdoor's guidelines. If you select this option, make darn sure the review is a violation of Glassdoor's guidelines. Because if you choose this option, you'll have a chance to comment and point out the violation. We've had success getting reviews that violate their guidelines in multiple cases. And all we had to do was flag it once and point out the violation.
This review contains false information. You don't get to provide any further information when selecting this reason. I don't know how Glassdoor could possibly investigate this as it's clearly your opinion against the employees opinion. This reason is unlikely to work and I would not use it.
The same person has written multiple reviews. If you choose this option, you will have the chance to add more information, but I honestly don't know how you would substantiate your claim since employee reviews are anonymous. I guess if you found the exact same review, pros and cons in another place on the site, you could provide that link to Glassdoor as proof.
The review was written by management or HR. Here's another option I feel is fruitless. Unless the poster identifies themself as a manager or HR, how would you know? The reviews are anonymous. Furthermore, you don't get the option to provide Glassdoor with any further details if you choose this option.
This review is for the wrong company. You'll have to give further info detailing where the review belongs. This can work if the content of the review is clearly irrelevant to your business. Make sure you give Glassdoor unequivocal proof that the review is not for your company.
I want to comment on this review. You'll have to signup for an employer account to comment. While setting the record straight might feel good to you, I would not recommend doing it because it only serves to make the negative review stronger. It can also help your Glassdoor page rank higher in Google, which you might not want. Also, commenting on a review makes it even harder to get rid of. So, leave it alone and contact us for guaranteed removal of the false or fake Glassdoor review.
None of the choices above apply. This is the catch-all and you'll have a chance to provide additional information on why the review should be taken down.
How To Know If A Flagged Glassdoor Review Has Been Removed?
Glassdoor has at least two responses it will send to your email address when you flag a review for removal.
If the flagging is successful, you'll receive an email from Glassdoor titled "Important information about a review you flagged," like the screenshot below.
Notice that Glassdoor is acknowledging the review "…contains sensitive content…"
In my experience, if you receive this email, the review will be permanently removed.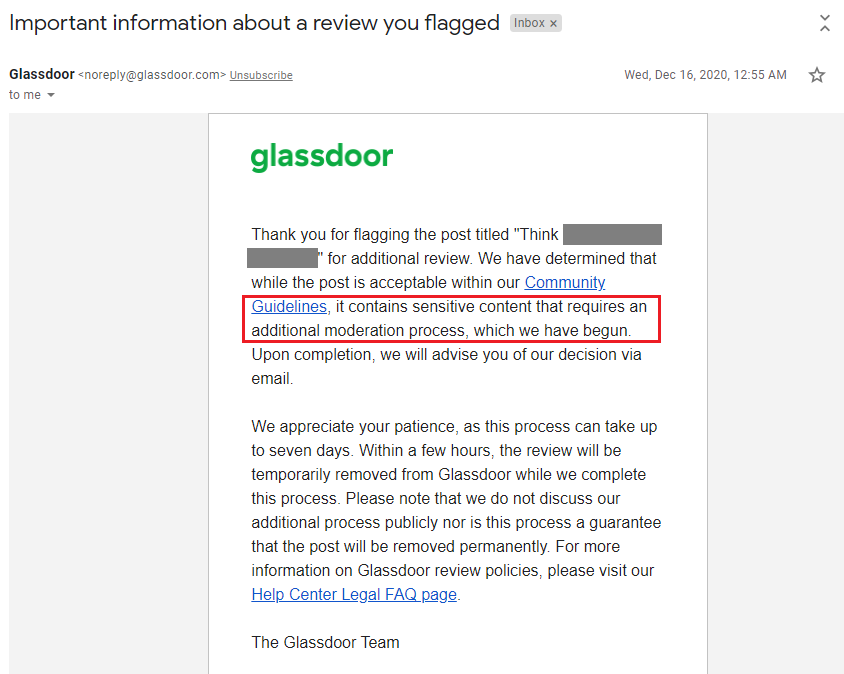 However, Glassdoor may also determine that the review you flagged does meet their guidelines, in which case you will be emailed a message like the one below.
Notice it says, "…a manager has reviewed the post…it does meet our guidelines…the post will remain on the site."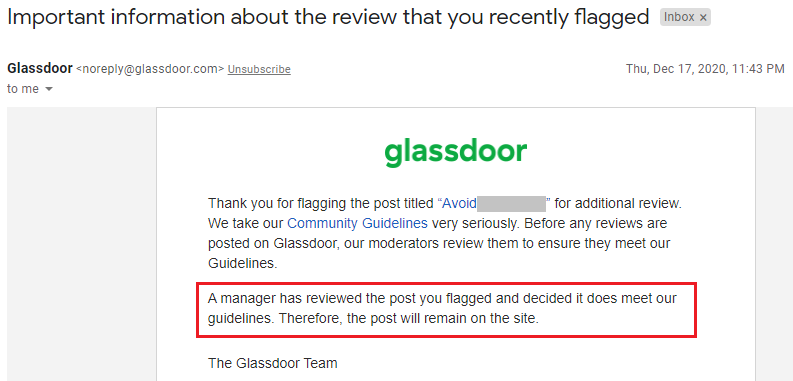 You might also like: Reputation Management for Small Business Owners
Will Glassdoor Remove A Company's Page?
No. Here's the link on the Glassdoor website that directly answers this question and provides the reasons why they will not remove and employer page if you request it.
Don't be fooled by the bit about canceling your free employer account. All this does is removes your ability to comment, update your company info and access analtyics information from the platform.
Cancelling your free Glassdoor employer account will NOT remove your company page.
I'm aware of companies who have shut down or changed names and Glassdoor will still not remove the old company page.
This is just one more reason why your best strategies for dealing with negative Glassdoor reviews are to hire us:
We provide guaranteed removal of individual Glassdoor reviews – if we can't remove it, you don't pay
We can help you get more good, quality reviews on Glassdoor which will help improve your overall rating
Can You Trust Glassdoor Reviews?
This is a great question.
Glassdoor has adopted a pretty strict user policy since 2020. When you first signup, you get 24 hours free access.
But after the 24 hours expire, they won't even allow you to browse their site, unless you give them a company review or salary review.
You've probably seen the message below.

You won't be able to do anything further until you click the button "Add Review or Salary (2 min)" and provide info about a current or former employer.
If that's beginning to sound a little fishy, look what you get if you do in fact hit the button. Notice the wording in the URL: "Give to get content wall hardsell."
The about says it all right there.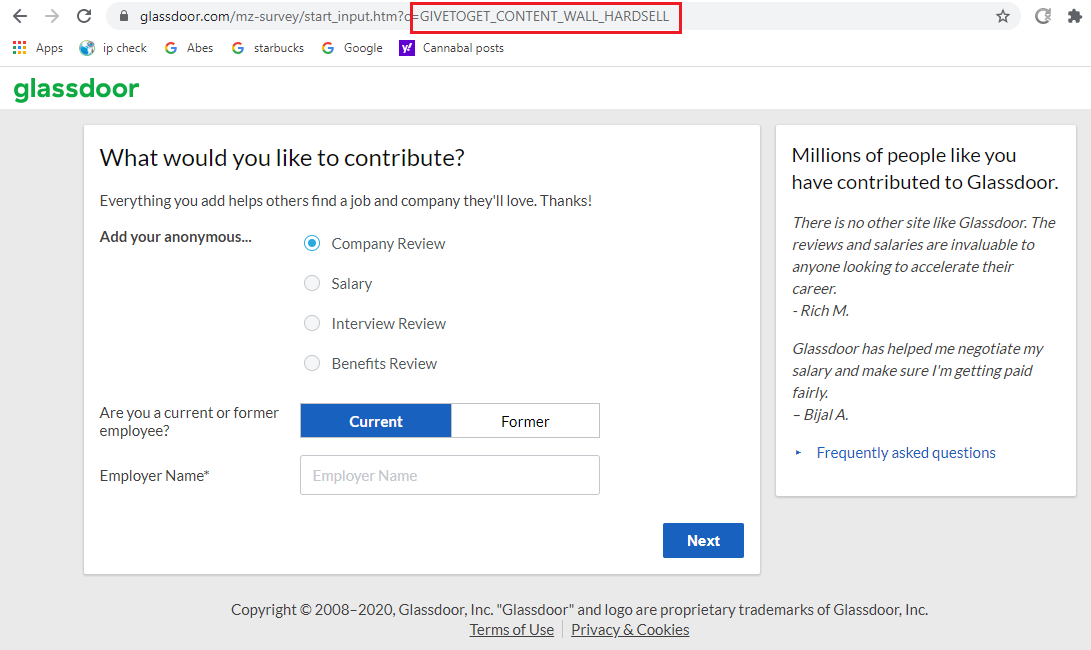 So, while Glassdoor positions itself as a place to "find the job that fits your life," the fact that they won't let you use their site without giving them a review seems pretty heavy handed to me.
I don't trust people or businesses who operate like that.
Glassdoor Review Removal Wrap-Up
If you're not already on Glassdoor as a company, I would not create an employer account.
The only advantage you get from an employer account is to use it for recruiting new employees. LinkedIn and Upwork are better options where you have no risk of bad reviews muddying up your online reputation.
Once you're on Glassdoor, it's nearly impossible to get off of it and negative reviews from disgruntled employees and create future problems in attracting talent to your company.
If you do find yourself needing help, we're the most affordable online reputation management service and we offer guaranteed deletion of fake, false, and defamatory 1-star reviews on Glassdoor. We can also help you get new 5-star reviews, just reach out. We're here to help you take charge on your company's online reputation.