We're able to delete bad reviews on TripAdvisor.
Our success rate is not perfect, but you only pay for the reviews we take down from your profile.
If you feel like negative reviews on TripAdvisor are hurting your ability to attract new customers, our service is for you.
Please connect using our form on this page and get an affordable quote.
What Is TripAdvisor?
TripAdvisor.com is the king of travel review websites.
Chocked full of travel advice, the site is a wealth of information on anything related to trips and tourism.
You can research hotels, restaurants, flights, and find things to do in any city in the world – all at the click of a mouse.
The site has over 58,000,000 indexed pages on Google, so if you're planning a trip, it's your one-stop shop.
What's more, the site is very trustworthy.
Moz's free domain authority checker gives the site a 1% Spam score.

Combined with a Domain Authority of 93, TripAdvisor.com is an online reputation management powerhouse.
Google nearly any hotel or tourist attraction and you'll see their TripAdisor page ranking high on Google.

How To Delete TripAdvisor Reviews
Of course, it's easy for users to edit or remove their own reviews from TripAdvisor.
But what if you're a business and you want to remove some of those bad reviews that are hurting your reputation?
Unfortunately, you're not going to find any helpful advice from the highest ranking websites on Google.
For fun, I searched for "delete tripadvisor review" and after scrolling past the first few TripAdvisor.com results, here's what I found: A whole lot of nothing.
Look how every single website says "No, you can't do it," or "Report it."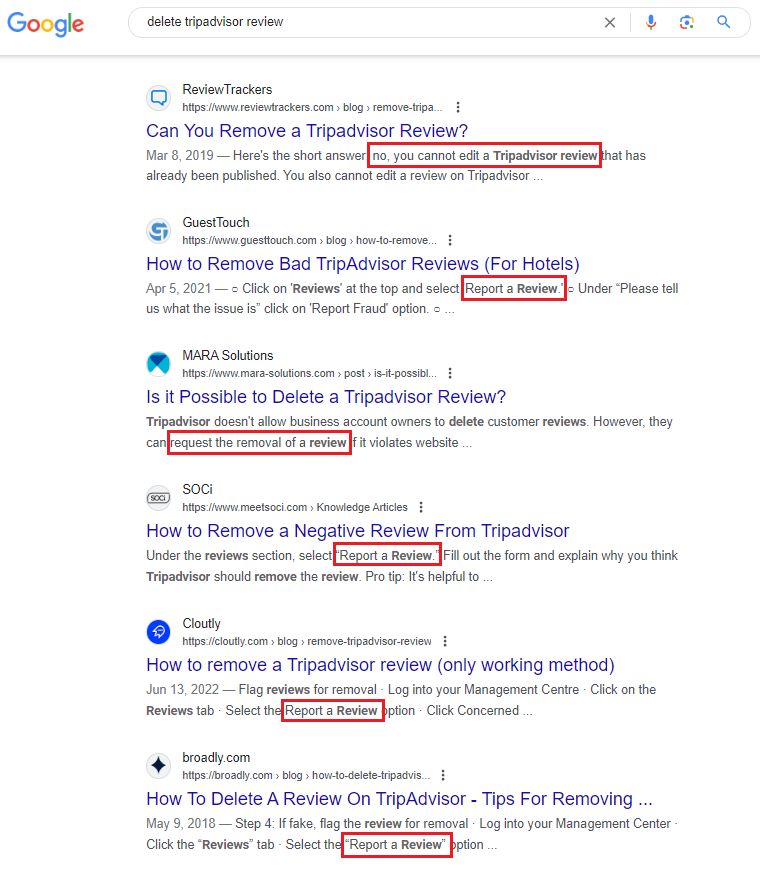 This doesn't help you at all.
If you want to get a TripAdvisor review deleted, here's what you do:
Fill out the form on AffordableReputationManagement.com
Provide a link to your TripAdvisor profile
List the reviews you want removed
We'll get you a per review removal quote and you only pay for those reviews we actually delete and which you verify.
Check out our video for a more thorough Q&A on TripAdvisor review removal.
How To Delete My Business Page On TripAdvisor
For those of you who have reported negative reviews without success, your next question might be: How can I just delete my business page?
After all, if you don't think your page is helping you gain new business, what's the point of having it?
A profile with lots of bad reviews could be hurting you more than helping you.
Alas, according to TripAdvisor, they will not delete your business page simply because you asked them to.
Per the screenshot below, you can see that unless your business is sold or permanently closed, TripAdvisor will not remove your page from the website.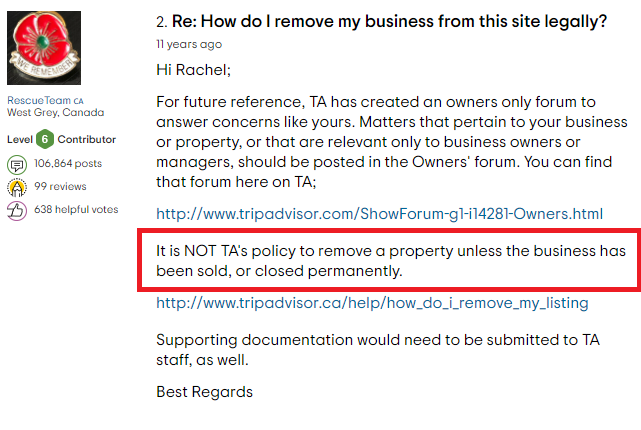 So, you're stuck with your profile and all it's bad reviews.
I recommend contacting us because there are two ways we can help you:
Delete bad reviews on your TripAdvisor page
Push down your TripAdvisor in Google search results where it's less likely to be seen
Summary
Unless a consumer review violates TripAdvisor rules, business owners have no recourse for dealing with bad reviews on your own.
And although we can't delete every single unwanted review on TripAdvisor, we can remove some of them.
That can help your rating and improve your online reputation, thus helping you get more clicks and more new business.
We look forward to helping you remove bad reviews from TripAdvisor, as well as Yelp, Indeed, Glassdoor, and Google.
Our service is affordable and guaranteed.