We offer HomeFacts Removal.
This means if you have a page on HomeFacts, whether it be your home address and tax information, your name, a sex offender page, or a report of a past meth lab, we can get it permanently removed at an affordable price.
Get a quote by completing the form on this page and get even faster service by providing the exact HomeFacts link(s) you want deleted.
What Is HomeFacts?

HomeFacts.com is the bellweather of websites for real estate information.
The site includes an expansive, searchable database providing you with information on United States neighborhoods including:
Property Reports
Air Quality
Sex Offenders
Meth Labs
School Ratings
Environmental Hazards
Crime Ratings
Demographics
Unemployment
Earthquakes
It's an invaluable resource with everything you need for your new home search in one place. Both realtors and home buyers rely on HomeFacts for reliable insights into any neighborhood or city located in the US.
The site is free to use and makes it's money through sponsored ads and Adsense advertising.
How To Remove My Name From Homefacts?
In you are a sex offender and no longer on a registry, you can request removal from HomeFacts yourself. Follow the 2 steps below.
(If you are a sex offender still listed on a public registry, skip to the HomeFacts Removal For Sex Offenders section.)
1. Report An Error. Scroll down to the footer of the website and click Report An Error.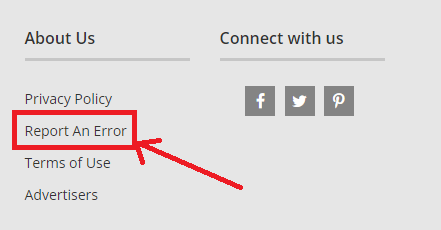 2. Complete the form that pops up. Provide all information required and in the Message box, put, "I am not listed on a registry. Please remove me from your website." Include the link to your page that includes your image and sex offender information. Make it easy for them to delete your page and remember to be very nice about it. You'll likely get faster service the nicer you are.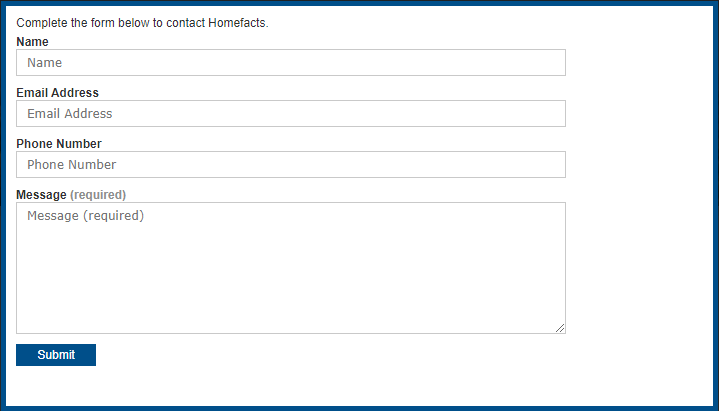 After your page is removed, allow a couple of weeks for it to naturally fall out of Google search results.
Now, when you Google your name, you won't be seen on HomeFacts.com any longer and you'll be putting your past behind you as you clean up your online reputation.
You might also like: Personal Reputation Management
HomeFacts Removal For Sex Offenders
Our HomeFacts removal service for sex offenders gets your page permanently removed from the site. Costs vary, so please contact us and include the actual link to the site.
The service is confidential and 100% guaranteed; you don't pay until after you confirm that the removal is completed.
How Does HomeFacts Get Sex Offender Data?
HomeFacts collects data from the official state registry database for all US states.
Here's what a sex offender page on HomeFacts looks like BEFORE removal.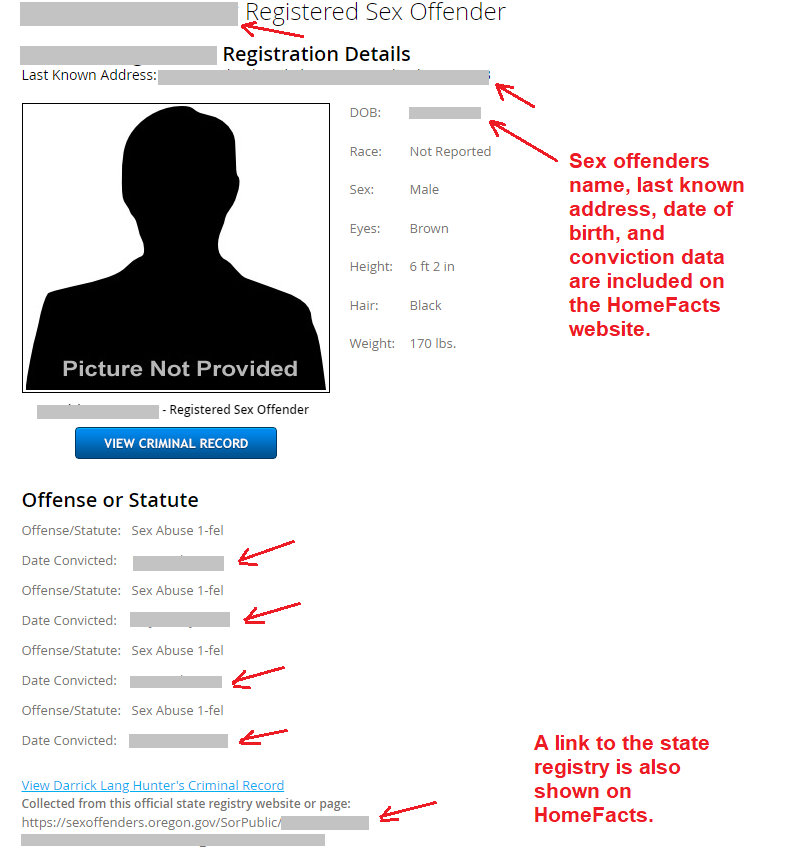 The page includes the sex offenders:
Name (in three places)
Last known address
Date of birth
Demographic information
Height and weigth
Offenses and conviction dates
State registry link
Here's what your page will look like AFTER removal is completed.

You might be interested in reading: SexPredators.com Removal
HomeFacts Removal For Individuals
The reason individuals and business owners may want to take advantage of HomeFacts.com removal is because the site contains sale and tax history for many residential and commercial properties across the United States.
Individual property pages do not show your name, but they do show historical tax information.
And while tax information is a matter of public record, you might not want it to be so easily found.
There's a big difference between having to go down to the county courthouse for public tax records and performing a simple internet search on Google.
Here's a sample of a residential sale and tax history listing on HomeFacts.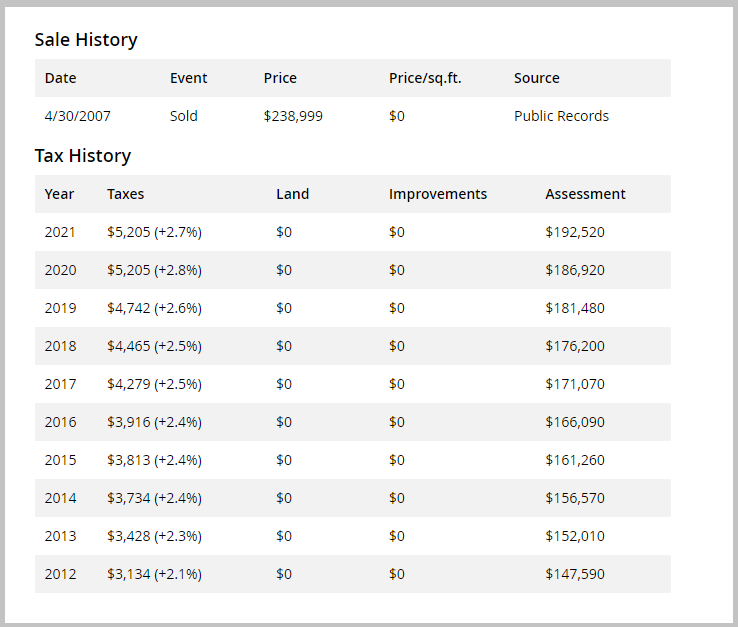 After removal, the page will show the same "We're sorry! It appears the page you're looking for can't be found."
Other Uses For HomeFacts Removal
With so much personal and property information on HomeFacts, there are multitudes of reasons why someone would want to get a page deleted from the site.
For example, homes that were former drug labs are listed right out in the open for anyone to see.
The data comes from the justice.gov website, so again it is public information, but if it were me, I'd rather the information be buried on a government website where it's hard to find, rather than have it be at your fingertips in the HomeFacts database.

HomeFacts Summary
HomeFacts is a haven of real estate data and statistics.
The site contains practically everything you would want to know if you were considering a move to a new area.
Not only can you get information on local weather, environmental hazards, and public safety information, even such mundane information as local airports, cemetaries, and nursing homes are listed on HomeFacts.
There is so much useful data that you might wind up getting information overload!
But if you have private information you'd rather not have so easily accessible to the public, then our HomeFacts removal service is for you.