We offer affordable removal & suppression services for negative articles on news websites, online newspapers, and blogs.
This includes our service to remove negative news stories from Google.
For a confidential quote, please fill out the contact form on this page or read below for more information.
How To Remove Negative News Articles From Google
Step #1 – Contact the news website directly
Ask them nicely to delete, de-index, or alter the negative story so it does not appear as prominently in search results.
Delete: If they delete it, your problem is solved. The story will fall out of Google search results within 1-2 weeks and will be gone forever.
De-Index: De-indexing means they can add a short piece of code to the web page which means the page itself still exists, but it won't be found by anyone Googling you. De-indexing is a good alternative to removal for the newspaper because it allows them to maintain journalistic integrity – the article still exists. But it helps you because no one will be able to find it in Google search. It's a win-win.
Alter: Lastly, you may be able to get the news organization to alter the article, especially if you have new information. If they will remove your name/business name from the title and/or headings in the article, it won't rank as high. If they'll additionally remove your name/business name from the article itself, the article probably won't be found at all.
Begin by locating the contact information for:
The writer – You can usually find the writer's name in the author by-line. If you're unable to contact them through the news website, Google them. Contact them through their social media accounts – LinkedIn is the best.
The editor – If you're unable to find the editor by looking through the sitelinks of the website, go to Google and make the search below:
Site:https://newswebsite.com "editor"
Replace news website with the URL of your newspaper. This query will return any pages on the site that contain the word "editor." Click on those results and try to locate the editor's name. Once you find the editor's name, contact them through the website's Contact page or Google them or use LinkedIn as described above.
The webmaster or site owner – If you can't find contact info for the website owner or webmaster on the site, then go to whois.com and enter the website into the search bar. If the site is not anonymously registered, you'll then be able to get the email address for the owner or webmaster.
Step #2 – Send an email a physical letter similar to the one below
Now that you have each of the key contacts at the news website, contact them via email or regular mail.
I suggest using the template below, as it was actually used by a client years ago who was successful in getting the news website to remove the article about him.
Of course, you can change it to suit your needs and include any relevant facts about your case, especially if it was expunged or if you were not found at fault.
Dear ________,

I am writing to ask if you will consider removing my name/web page at [insert the exact page].  The incident described happened over two years ago and I have since made restitution by [attending classes/doing community service/etc].  I regret that the incident happened and no longer engage in that sort of activity.

My problem today is that I am changing jobs.  I work as a [insert your profession] helping [what you do].  I love what I do and am applying for a new job, so that I can continue my career.

My fear is that a potential employer might Google my name and find the report on your site, which could be very damaging and hurt my chances for employment.

I know that what I have done is in the public record, but it is also in the past and I wish to move forward.  Would you consider removing, de-indexing or changing this page on your site?

Sincerely,

[Your name]


Step #3 – Contact us for help
Sadly, most of these removal requests fall on deaf ears.
Google does provide two free resources for removing content for legal reasons you can try:
But we've had the most success helping clients using the exact editorial removal steps above.
And if removal of the news article proves fruitless, we can definitely help you push it down in Google where people won't easily find it.

How To Push Down Negative News Articles In Google
Push down, also known as suppression, is the process of pushing negative news articles, websites, or anything down in search results.
By pushing it down, it's less likely to be found by employers or others checking you out online.
Pushing down a negative news article in Google is a 3-step process.
Step #1 – Create New Content
We create new, positive content about you in an attempt to displace the negative news story. If the new content is deemed more relevant by Google, it will outrank the news story and thereby suppress it in search results.
Examples of content strategies we use include press releases, websites, social media, interview sites, and others.
These strategies and others are further detailed on our reputation management company page.
Step #2 – Improve Existing Positive Content
If you have a bio page on your business website or perhaps have already purchased a website that matches your name, we can make recommendations to help you improve the content so it ranks better.
This includes increasing the content length and upgrading the on-page optimization to tell search engines what your page is about.
I describe how to improve your bio page on your business website here.
Step #3 – Promote New and Existing Positive Content
There are a couple effective strategies to promote all of your positive content.
The first is link-building. By interlinking all of your positive digital assets together, you let Google know they are all relevant to you. This helps them rank higher.
The second method is by getting "clicks" to your positive articles and websites. This strong ranking factor helps promote the positive links because Google's algorithm thinks that since they are being clicked on, they are more relevant.
You can try suppressing the news article yourself or you can request our help; we'll handle everything for you.
Why Remove News Stories From The Internet
Before the internet came along, bad news had a life cycle. Negative or unwanted business stories in the newspaper were here one day and then gone the next.
The World Wide Web, however, is a permanent record. Almost every newspaper now has an online equivalent that never goes away.
So while a bad story about your company published in the LA times might only last a few days or weeks, the same story lives on the internet forever.
And since most online newspapers rank well in google, the negative article has a good chance of appearing on the first page of google when you check your company's online reputation.
Even small, local community newspapers have an online presence and these stories can show up when you google yourself or your brand. 
Business owners and entrepreneurs understand how important their reputation is. A positive reputation means that a business can attract higher caliber employees, build a better relationship with their clients and customers, and charge a higher premium for their products and services. Conversely, a negative reputation can do permanent harm to your brand and turn customers away.
One typical challenge that businesses face in today's era of social media is from bad reviews or blog posts. While I typically recommend that business owners ignore a single negative review, as trying to get it removed might backfire and draw more unwanted attention, sometimes a review, post, or article goes too far and rises to the level of defamation. In some cases, an unscrupulous individual will even create fake reviews to harm a competitor. In such instances, a professional online reputation specialist becomes essential.
Naturally, past clients are unable to publically testify regarding successful case studies, as their confidentiality is of the utmost importance to them. But we've got hundreds of happy clients.
How To Measure The Impact of Negative News Stories On Your Business
The effects of a negative news story can hur you or your business's online reputation. Here are some of the things people have said when they contacted us:
"I'm an investor and no one will do business with me when they find this story."
"I'm looking for a job and having a hard time getting 2nd interviews. I think people are Googling me and finding the story."
It doesn't matter whether you're an entrepreneur trying to protect your business reputation or an individual looking for a job – negative stories on news websites are harmful to you. And companies who've spent millions developing their brand identity can see it be taken down as negative news stories call their motives into question.
Some customers will ask you about a negative news article. This is easy to measure.
But what about people who research you online and never call due to uncertainty and doubt triggered by the negative article?
Here's a step-by-step method to get a basic idea of how many people might be viewing your article.
Step #1 – How many people are searching for your brand?
Setup an adwords account and use Google Keyword Planner to find out how many people are searching for you online.

This is a very basic computation and doesn't take into consideration every permutation of your business name, such as:
company name + LLC
company name + location
company name misspelled
etc
This gives you a good starting point for our simple assessment of impact of the bad press article.
Step #2 – Determine the position of your negative news story.
Google the brand name from Step #1 and hit enter.
Not counting any Google ads, find the position of the negative link. Do this simply by counting the first organic search result as 1, the second as 2, and so on.
There are usually 10 organic results per page.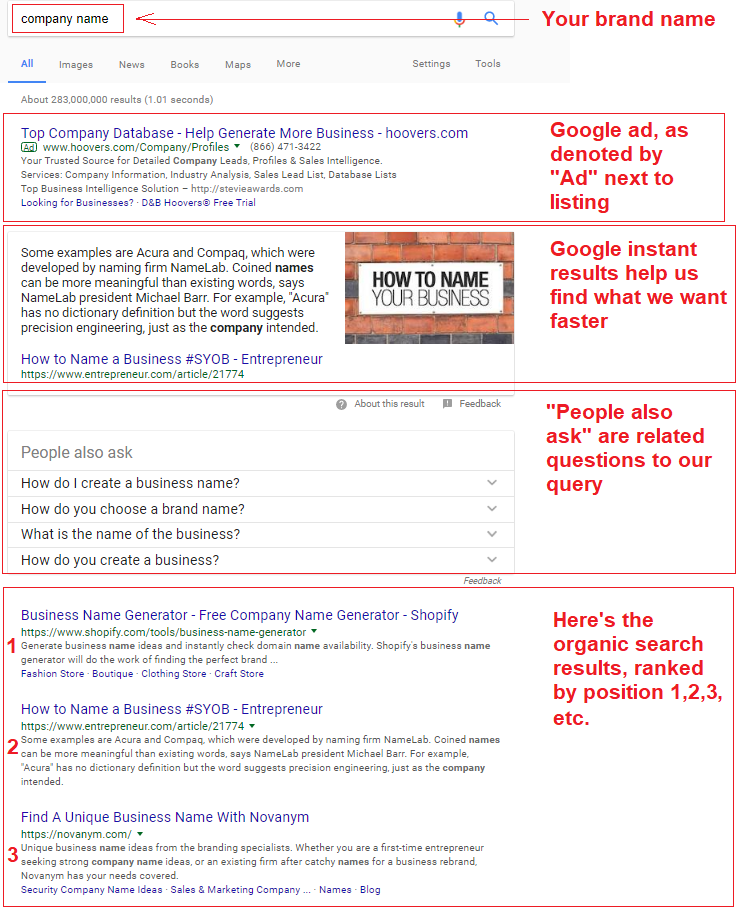 Step #3 – Find out the click-through-rate for organic search results
According to a Moz Study of click-through rates based on SERP position, links ranking on page one account for 71% of clicks. Links on page 2 and beyond get less than 6% of clicks.
Using the Moz data from the chart below, find the % of clicks for your negative article based on it's position in search results.
| Link Position | % of Clicks |
| --- | --- |
| 1 | 31% |
| 2 | 14% |
| 3 | 10% |
| 4 | 7% |
| 5 | 6% |
| 6-10 | 4% |
| 2nd page | 4% |
| 3rd page | 2% |
*Moz notes the other 23% of people who don't click an organic result, likely modify their search, click an ad, or see what they want "instantly" without clicking anything.
Step #4 – How many people are reading the negative article?
Multiply the avg. monthly search volume from Step #1 by the Click Through Rate in Step #3.
Let's say we have 170 avg. monthly search volume and a bad link at position #2.
The math would be: 170 X 14.04% = 23.8 clicks per month to the negative link.
Step #5 – Calculate the potential impact on your business
Take the approximate lifetime value of 1 customer and multiply it by the number of people clicking the negative article each month.
If an average customer is worth $1,000 to you and you have 170 avg. monthly search volume for your company name and a bad link sitting at #2, the math would be:
$1,000 X 23.8 clicks/month = $23,800 per month of potential lost revenue
Now, obviously, not every person who clicks and reads your damaging online news story is going to walk away. Some will contact you and still do business with you.
But remember, from Step #1, you likely have variations of your business name that people also use to search for you.
So, these 5 steps just give you an idea of the potential impact of a bad story on your bottom line.
Types of News Stories We Can Delete
News stories that are the best candidates for removal are when you "in the right," or at least if you are not guilty of the accusation. The actual content of the story DOES matter.
One good example of a story which can usually be removed is one relating to an arrest. If the charges were dropped, there is a good chance it can be deleted from the website.
We have literally had cases where a person gets charged with a non-violent crime such as fraud, DUI, or a minor infraction. The charges are dropped and the case never goes to court. But the news story is affecting this person's business or ability to get work, as people judge him based off the arrest, not the fact that he or she was innocent.  We get it removed.
Types Of News Stories That Are Difficult To Delete
Not every negative link or article is easy to remove or get de-indexed.
Brand new articles about fresh scandals, arrests or situations where the client is straightforward guilty of something beyond a minor issue are tougher to remove. This happens frequently. If you are guilty and strike a plea bargain, this is tougher to remove because it is true.
Also, damaging articles from reputable news sources that do not rise to the level of defamation can be nearly impossible to eliminate. The media outlets that post them generally keep them archived and accessible, and the search engines will require overwhelming proof that the news they contain violates one of their policies, which will usually require litigation.
It never hurts to have our professional team take a look at your situation and provide a quote. If the link can't be removed, then suppression is your only option.
With suppression, I recommend you take a proactive approach to combating the negative publicity. There is no magic bullet solution, but with smart PR and branding practices, it is possible to create enough positive promotion to counteract the damage.
An important part of suppression strategy is implementing an aggressive and proactive social media presence that will highlight your strengths as a business and draw attention away from the offending article(s).
News Story Removal [Video]
You might also like: Personal Reputation Management
FAQ
How long do newspaper articles stay online?
In theory, forever. Different sites have different policies regarding how long and what access they provide to their archives, but in many cases, the articles will remain forever unless you can succeed in having it taken down.
Do you need to hire a defamation attorney for removal?
Not necessarily. Depending on the situation, a lawyer may or may not be necessary, and in many instances, an ORM specialist will be able to remove or delist a negative article or post more quickly and more effectively.
How long does it take to remove negative information from the internet?
The length of time required varies. The process can be anywhere from a couple of days to several months.
How does the "guarantee" work?
You will be asked to sign a contract that says you agree to pay if the agreed removal is completed to your satisfaction. Generally, you'll be asked to place funds with a 3rd party  independent escrow service, such as escrow.com.
If/when the news article is removed from the internet, funds are released. If we are not successful, your money is released back to you. You pay nothing. We risk all the hard costs and time involved.
What is the difference between deletion and de-indexing in Google? 
Deletion means that the content is completely removed from the internet so that no one is able to access it, while de-indexing means that it has been removed from Google's search results. This means that only people who have the direct link will be able to find the offending content. 
Why do online newspapers rank so well in Google? 
Google ensures that newspapers score well in their search algorithms because they are trusted sources of information that update their sites daily or weekly. The sheer amount of content they provide and their popularity with online audiences means that Google relies on them to provide highly relevant search results. 
What if removal doesn't work?
First off, if we can't remove or delete the negative story, you pay nothing. We assume all risk and you lose nothing if cannot get the article deleted from google.
If we can't remove the online news story, then option two is to push it down in Google search results.
List Of News Websites We Can Delete Or Push Down
This is just a partial list of news websites we can successfully push down in Google.
Akron Beacon Journal – ohio.com
Alabama Local News – al.com
Albuquerque Journal – abqjournal.com
Allentown Morning Call – mcall.com
Anchorage Daily News – adn.com
Arizona Republic – azcentral.com
Arkansas Democrat-Gazette – arkansasonline.com
Asbury Park Press NJ – app.com
Atlanta Journal-Constitution – ajc.com
Austin American-Statesman – statesman.com
Baltimore Sun – baltimoresun.com
Bergen Record – northjersey.com
Boston Globe – bostonglobe.com
Boston Herald – bostonherald.com
Buffalo News – wkbw.com
Charleston Post and Courier – postandcourier.com
Charlotte Observer – charlotteobserver.com
Chicago Tribune – chicagotribune.com
Cincinnati Enquirer/Post – cincinnati.com
Cleveland Plain Dealer – cleveland.com
Columbia- The State – thestate.com
Columbus Dispatch – dispatch.com
Contra Costa Times – eastbaytimes.com
Daily Herald – Suburban Chicago – dailyherald.com
Daily Oklahoman – newsok.com
Dallas Morning News – dallasnews.com
Dayton Daily News – daytondailynews.com
Daytona Beach News-Journal – news-journalonline.com
Delaware News Journal – delawareonline.com
Denver Post – denverpost.com
Denver Rocky Mountain News – rockymountainnews.com
Des Moines Register – desmoinesregister.com
Detroit Free Press – freep.com
Detroit News – detroitnews.com
East Valley Tribune – eastvalleytribune.com
Fort Worth Star-Telegram – star-telegram.com
Fresno Bee – fresnobee.com
Grand Rapids Press – mlive.com
Greenwich News – greenwichtime.com
Hale County News – halecountyal.com
Hartford Courant – courant.com
Honolulu Star Advertiser – staradvertiser.com
Houston Chronicle – chron.com
Indianapolis Star – indystar.com
Jacksonville Times-Union – jacksonville.com
Kansas City Star – kansascity.com
Knowville News-Sentinel – knoxnews.com
LA Opinion – laopinion.com
Las Vegas Review-Journal – reviewjournal.com
Lexington Herald-Leader – kentucky.com
Los Angeles Daily News – dailynews.com
Louisville Courier-Journal – courier-journal.com
Memphis Commercial Appeal – commercialappeal.com
Miami Herald – miamiherald.com
Milwaukee Journal Sentinel – jsonline.com
Minneapolis Star Tribune – startribune.com
Mobile Press-Register – al.com
New York Daily News – nydailynews.com
New York Post – nypost.com
Newark Star-Ledger – nj.com
Newsday – newsday.com
Omaha World-Herald – omaha.com
Orange County Register – ocregister.com
Orlando Sentinel – orlandosentinel.com
Philadelphia Inquirer – philly.com
Pittsburgh Post-Gazette – post-gazette.com
Pittsburgh Tribune-Review – triblive.com
Providence Journal – providencejournal.com
Raleigh News & Observer – newsobserver.com
Richmond Times-Dispatch – richmond.com
Riverside Press-Enterprise – pe.com
Rochester Democrat and Chronicle – democratandchronicle.com
Sacramento Bee – sacbee.com
Salt Lake City Tribune/Desert News – sltrib.com
San Antonio Express-News – mysanantonio.com
San Diego Union-Tribune – sandiegouniontribune.com
San Francisco Chronicle – sfchronicle.com
San Jose Mercury New – mercurynews.com
Sarasota Herald-Tribune – heraldtribune.com
Seattle Times – seattletimes.com
Seattle Times/Post-Intelligencer – seattlepi.com
South Florida Sun-Sentinel – sun-sentinel.com
St. Louis Post-Dispatch – stltoday.com
St. Paul Pioneer Press – twincities.com
Sylacauga News – sylacauganews.com
Syracuse Post-Standard – syracuse.com
Tacoma News Tribune – thenewstribune.com
Tampa Bay Times – tampabay.com
Tampa Tribune – tbo.com
Tennessean – tennessean.com
The Blount Countian – blountcountain.com
The Oregonian – oregonlive.com
Toledo Blade – toledoblade.com
Tucson Daily Star – tucson.com
Tulsa World – tulsaworld.com
USA Today – usatoday.com
Virginian-Pilot – pilotonline.com
Wall Street Journal – wsj.com
Washington Post – washingtonpost.com
Washington Times – washingtontimes.com
West Palm Beach Post – palmbeachpost.com
White Plains Journal News – lohud.com
Costs
The cost for deleting an article from Google can vary widely, usually ranging from $3,500 – $10,000 or more.
Costs are based on the time and legal fees (if necessary) to get the editor or owner of the news website to remove your article.
Since the removal service is guaranteed, you risk nothing by requesting a quote.
And you only pay if we're successful and you are satisfied.
Summary
Articles published on online newspapers and blogs usually rank well. This is great if the article about you is positive, but if the story has negative connotations or is accusatory, you could find it troublesome to do business or find a job.
Some of our larger clients have reported losing tens of thousands of dollars because people become gunshy after Googling them and finding a negative story.
If you're willing to make the investment to remove the negative story, we can help you. Use our online form to get a quote.
We're a small firm of online reputation management professionals who specialize in the guaranteed removal of negative stories on news websites, online newspapers, and blogs.