Plastic surgeons and cosmetic surgeons make up a large number of the client base we do affordable online reputation management work for.
In this post, I'm going to share five strategies that plastic surgery offices can use to help protect their internet reputation in Google, Bing and other search engines.
These are all strategies your front desk assistant or receptionist can do in his or her down time. It's not difficult work, but it does require organization and persistence.
At the end of the post, I'll share effective strategies we employ to help your practice look good on the internet.
Do A Google Search Of Your Practice
Go to Google and search for the name of your practice and/or the name of your cosmetic surgeon.
Probably, you're going to see your website ranked #1 and hopefully you see your Google Business page listed on the right side, if you're on a desktop PC.
Make sure you've claimed your Google Business Page and completed the listing entirely.
Do your best to get Sitelinks. Sitelinks are chosen by Google's algorithm to help people navigate your website faster. Sitelinks are not under your control, but Google does provide best practices for how you can get them to show up. Sitelinks make your business look more robust, plus they take up valuable page 1 space, thus helping to push anything negative further down the page.
Claim And Be Active On These Social Media Platforms
Seeing before and after images is a popular way of showing the quality of your cosmetic surgery work.
Social media is the perfect place to showcase your work, plus these six sites rank really well.
I recommend cosmetic surgeons focus on these social media platforms:
Instagram – very strong domain, perfect for before and after photos
YouTube – more on YouTube later, but before and after videos can easily be produced to showcase your work
Pinterest – Pinterest is a visual platform and normally I would not recommend it, but in this case, I do
Facebook
LinkedIn
Twitter
Each of these social media platforms will rank well for your brand if you claim them and then BE ACTIVE on them. You can share the same content and images on all six platforms. The more you use them, the better they will rank, plus you might even pick up new clients.
Be sure to also include links on your website to each of your social media platforms. This helps strengthen them and signals to Google that they should show them in search results when someone Googles you.
Get Listed In Online Medical Directories
I prioritize medical directories such as WebMD.com and RealSelf.com over general business directories like Yelp.com and Manta.com because if you're a plastic surgeon or operating a cosmetic surgery practice, online medical directories will usually rank higher than general business directories.
Complete Your Profile!
Begin by making sure your business is listed in each of the directories below. Claim and complete each listing fully with pictures, description, website, office hours, etc. This is the perfect job for your front office staff during down time.
You might also like: Reputation Management for Small Businesses
Just look at what a difference it makes in the side-by-side comparison below of the incomplete WebMD profile for Marcadis Watt Plastic Surgery vs. the completed WebMD profile of plastic surgeon Dr. Thomas McNemar.
Who would you rather do business with? Now, I'm not advocating you pay for advance features on medical directories, that decision is up to you. But I do recommend taking advantage of everything you can for free. Completed profiles look better and stand a better chance of ranking better in search results.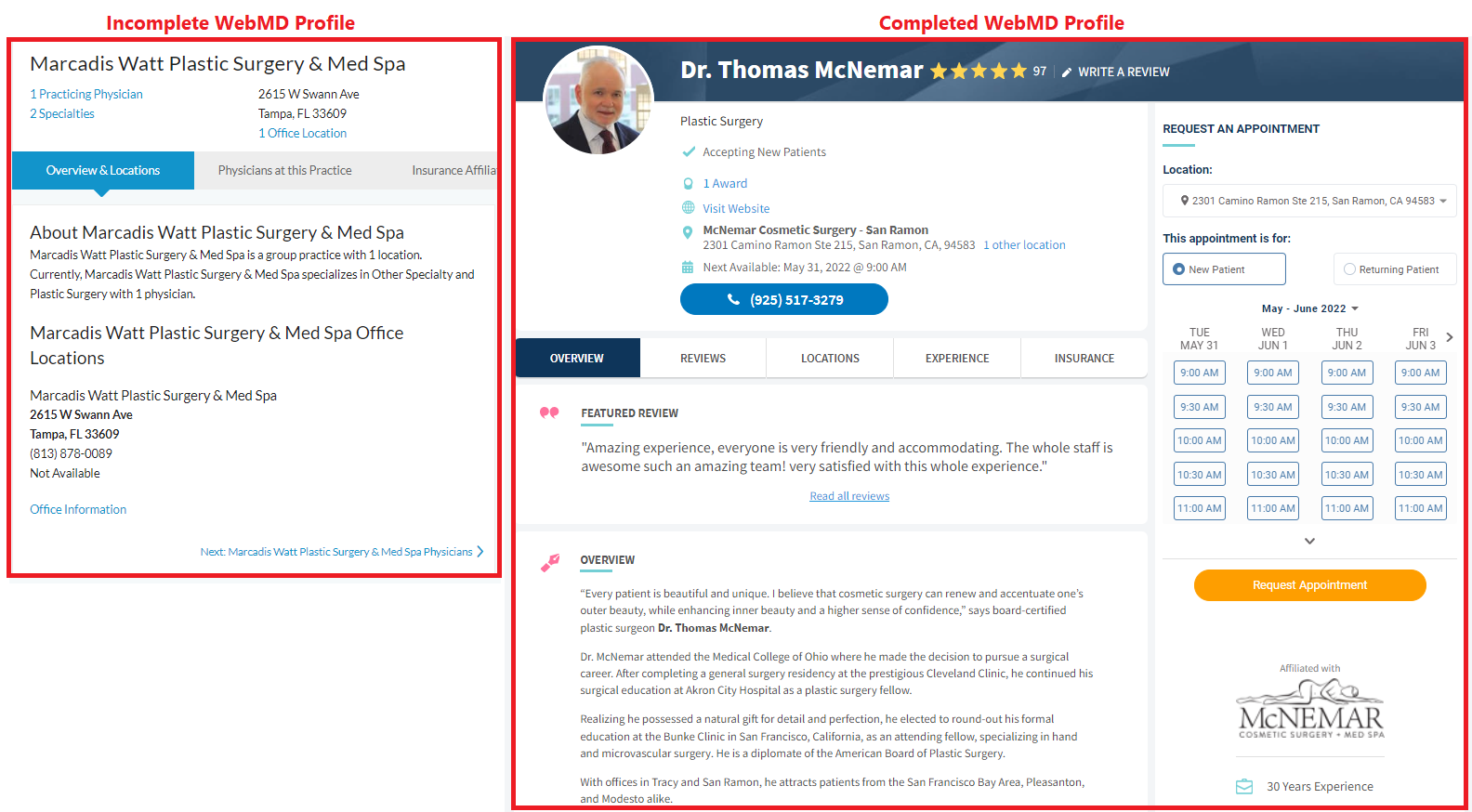 List of Online Medical Directories
Here are some of the top online medical directories to list your practice in.
anzolomed.com
betterdoctor.com
buildmybod.com
carecredit.com
caredash.com
carelistings.com
cured.com
demandforce.com
docspot.com
doctor.com
doctorfinder.com
doctor.webmd.com
doctorlogic.com
doximity.com
drscore.com
evolus.com
ezdoctor.com
facialfeminization.net
findatopdoc.com
findhealthclinics.com
findmydirectdoctor.com
healthcare4ppl.com
healthgrades.com
healthline.com
helpmecovid.com
md.com
medicinenet.com
mtfsurgery.net
plasticsurgery.org
ratemds.com
realself.com
researchgate.net
sharecare.com
smartbeautyguide.com
threebestrated.com
topsurgery.net
vitadox.com
vitals.com
wellness.com
zocdoc.com
You might be thinking, "People use Google or they get a referral from their primary care physician to find a cosmetic surgeon. Why do I need to list my practice in these directories?"
According to a 2020 survey from Doctor.com, almost half of potential patients avoid providers with incomplete online directory profiles.
And remember, your goal is to have a robust online profile with as much good content as possible on page one when patients Google you. Get a complete listing in each of these free directories and you'll be doing your best job of protecting your online reputation. Your front desk staff could do one of these each day and you'd be done in a couple months.
Bonus!
Plus, having a consistent business name, address, phone number is excellent for your SEO. Each online listing of your business's name/address/phone # is called a citation and many SEO's believe it's an important ranking factor for your local market.
Additionally, getting a link back to your business website from each of these directories gives you a leg up over your competitors who haven't taken the time to complete their listings.
How To Find Even More Online Medical Directories
An easy way to stay up to date is Google "online medical directories."
Another way is to do an "intitle" Google search, using your competitor's name. For example, go to Google and type intitle:"Competitor name" in the search box. This pulls up all web pages with the the doctors name in the title of the page.
See their are 142 results. Go through all of them and keep a running alphabetized list of all medical directories your competitors are already listed in. Make sure you're practice is listed in them, too. Do this for 4 or 5 of your local competitors and you'll have a robust list that will help you with both online reputation management and search engine optimization.
Build Out Your Profile On Health Insurance Websites
If you're affiliated with a health insurance program, they'll have a website where they list their doctors. You will definitely want to build out your profile here as patients are definitely using these sites to do research on a potential cosmetic surgeon.
Be sure to include a list of all services you provide in the description. Here's an example why:
The legacyhealth.org website allows you to search for a doctor by keyword.
In the example below, I searched the LegacyHealth site for plastic surgeons that specialize in the "tummy tuck" procedure.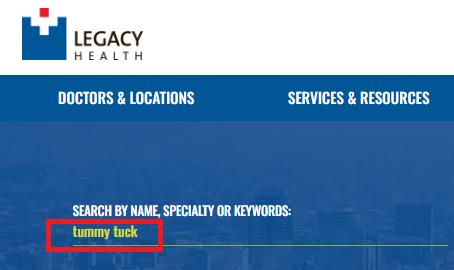 Guess what?
Only FOUR surgeons were shown to me in the results.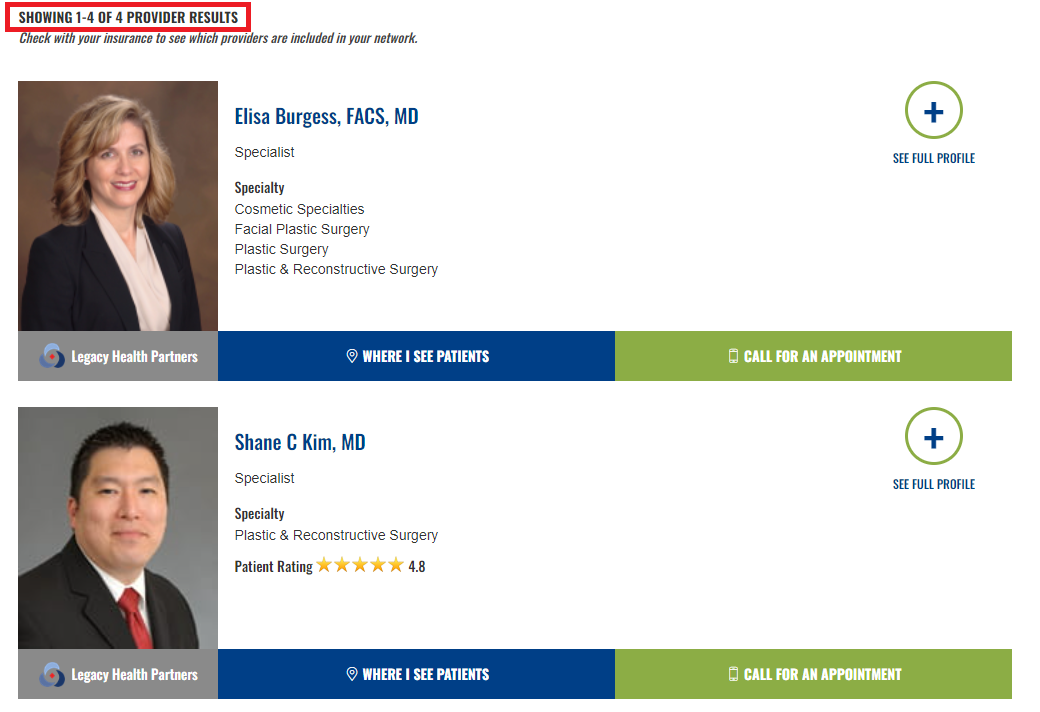 When I clicked into the profile for each of the four surgeons, guess what keyword I saw?

Not only will a fully completed, descriptive profile help Elisa's page rank better for her name, it also is helping her obtain more patients who are searching for specific procedures they want done.
Including all of the services you provide (these are your keywords), is a no-brainer. Include all of your services in every single online profile you claim and complete.

Step #5
Claim & Complete Your Profile In Online Business Directories
Some well-known online business directories include yelp.com, bbb.org, and yellowpages.com.
You can use an aggregator service like Yext or EZLocal to submit your business information in bulk to hundreds of online directories at once.
These paid services save you time, but there are limitations to be aware of:
If you stop paying the aggregator, you risk losing your listing in the directories they've submitted you to.
By applying in bulk, you may not be able to take advantage of nuance opportunities specific directories provide. This means your listing might appear incomplete, as opposed to if you did it manually.
I prefer the manual method because it's free and will last as long as the online directories exist. The downside is that it takes time, so you'll need to prioritize which directories to get profiles in.
How To Prioritize Listings in Online Business Directories
I probably sound like a broken record by now, but once again, do a Google search. Search your own practice first, then search for your competitors. Go five pages deep on each search and make a list of the general online business directories you see.
Then make sure you business profile is listed (and fully completed) in each one.
I randomly chose to search for Dr. Patti Flint, a Phoenix, Arizona plastic surgeon and the only general online business directories (not medical directories) I found were:
yelp.com
mapquest.com
foursquare.com
zoominfo.com
uslocalsearch.info
birdeye.com
radaris.com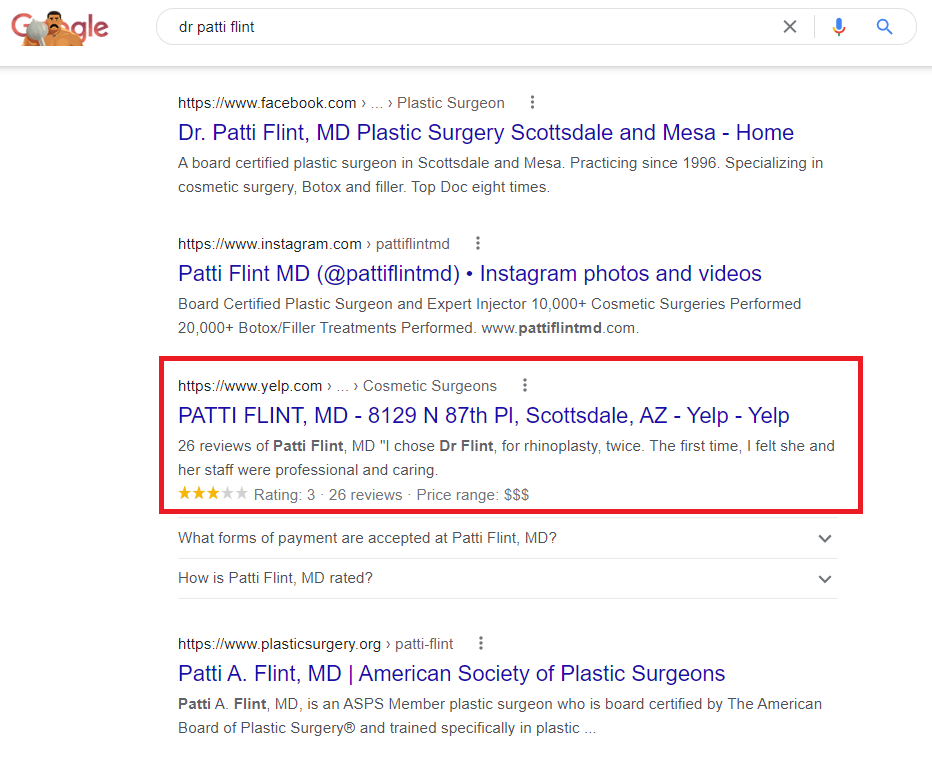 Only Yelp was on page one. The rest were deeper in on pages 4 and 5.
Once you've performed this audit for yourself and a few of your competitors, you'll have a concise list of the most important business directories, according to Google.
These are the ones Google is ranking highest in your local market. So go ahead and claim and complete your listing in each one.
By relying on the domain strength of these online business directories, you give yourself the best chance that 1 or 2 of them will pop onto page one and thus help suppress any negative online content.
Bonus Tip! Online Newspapers
Many local newspapers also provide business listings and since online newspaper carry high trust in Google, a nice profile in your local newspaper can pop straight to page one if you're lucky.
Below is a basic listing on OregonLive.com just waiting to be claimed and completed. If I were Salmon Creek Plastic Surgery, I'd be all over this. Claim the profile and complete it as much as you can, maybe you can submit images, office hours and your own description.
With all of that information on a strong site like OregonLive (domain authority of 87 out of 100 as of this writing May 2022), it might jump straight to page one.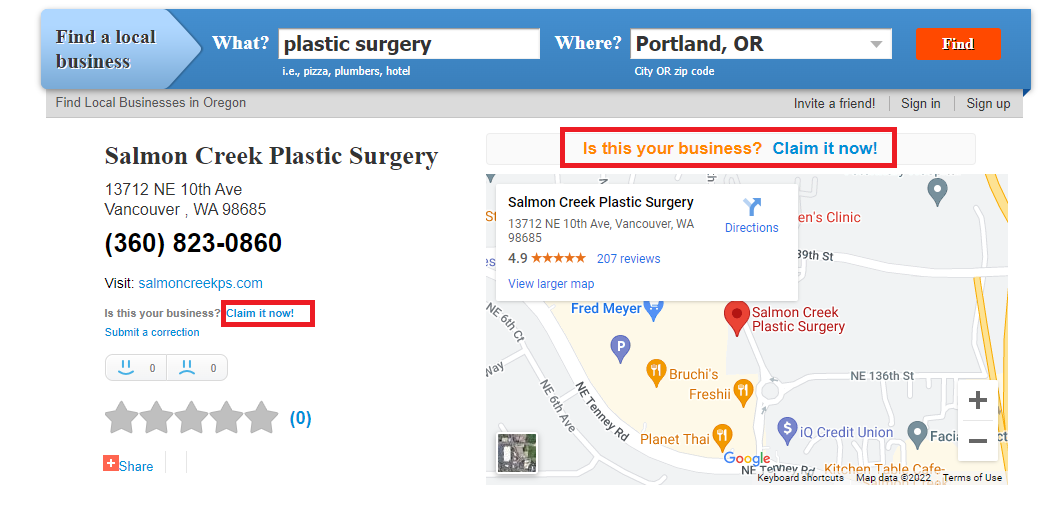 All of the strategies listed above are ones you can do yourself.
In fact, we usually don't get involved in claiming profiles for our cosmetic surgeon clients because most of them require email or text verification. Each profile has it's own rules for verification – they want to know it's really you – so we find it's a better use of our time to focus on other areas like the ones below.
Affordable Reputation Management Strategies For Plastic Surgeons
Please note, Google is always updating it's algorithm, so what ranks well, might not rank well tomorrow. We're going to put our resources into things that work.
In 2022, these three affordable online reputation management strategies help suppress negative links so that plastic surgeons look better in Google.
Press Releases – We write and distribute positive press about you that gets picked up by dozens of online news outlets. The result is usually one of two of these publications will outrank negative content. Plus, we include links within the press release to help promote your other positive online assets, thus pushing them up in search results.
Micro Websites – Micro websites are standalone sites on a new domain name, such as this one cosmeticsurgeonbayarea.com. Since the site is under your/our control, you can add images and unique content that ranks well in Google. In addition, micro sites allow you to promote your other positive content through link building.
Interviews – we can get you published on interview sites that add value to your online reputation while also pushing down negative links.
If you'd like some professional help cleaning up or protecting your online reputation, please contact us. We look forward to assisting you at an affordable monthly price with no long term commitment.