We can change Google Related Searches at an affordable price.
To my knowledge, there is NO ONE else who can reliably fix the related searches that appear in Google, Bing, or Yahoo like we do.
Get a quote now by filling out our form.
What Are Google Related Searches?
Google's "Searches Related To" are the related search suggestions you see at the bottom of the page of search results.
These suggestions are different than Google Autocomplete, which are the suggestions that occur in the search box as you type.
Negative or unwanted related searches are harmful to your onine reputation because they are easy for people to click on.
If you've got something you don't want out their for public consumption, we can help you hide it, so no one readily sees it.

How We Fix Google Related Searches
We're certain that the Google Related Searches algorithm is different than the algorithm for Google Autocomplete.
Unlike Autocomplete, which is primarily based on random search activity, Related Searches is influenced by sequentially searching terms one after the other.
This is what signals Google that they are related.
We have seen that if we can get enough sequential searches performed by enough different people, the suggestions in Google's "Searches Related To" will change in your favor, pushing out unwanted related searches and replacing them with the ones you want people to see when they Google you.
For example, in the image above, if we wanted "Your company locations" to appear as one of the related searches, we would need to have people perform a search like this:
Search for Your company
Click a search result
Go back and search for Your company locations
Click a search result
It is this sequence of search+click above that signals to Google that Your company is related to Your company locations.
When enough people perform this sequential search instruction over a period of time, Google's algorithm picks up on the trend and places the suggestion Your company locations in the "Searches Related To" area for the keyword Your company.
Before And After Results

The image above illustrates what you might expect to see in a successful Google Related Searches campaign.
As you can see, the fraud suggestion was replaced by hours and lawsuit was replaced by locations.
It's impossible to predict what order your related searches come in – sometimes Google will re-order the related searches based on what the algorithm sees as being most relevant to the search.
However, our main goal is give you control over what people see when they Google you or your business.
Google Related Searches Repair Campaign – What To Expect
Here are the steps in a typical campaign:
You identify the keyword and the negative related searches you want pushed out.
We create a list of 10-12 positive terms about you or your business for you to approve. Some of these may already be appearing as related searches and that will make things go faster as there is less to change.
You approve/edit the list.
We get our team to work, performing sequential searches for your approved terms at a monthly quantity we feel is adequate for pushing out the unwanted suggestions. Since we get paid by the search, we keep your costs down by doing the least amount we feel is needed to get a positive result.
Each month, we continue reinforcing the same terms and usually in the 2nd or 3rd month, we start seeing changes. Sometimes, your case might be cleaned up within 2-3 months. Sometimes it takes longer.
We take a screenshot and send you a report each month, so you can monitor the progress.
Typically, related searches are more difficult to change than suggestions in Google Autocomplete.
The nice side of this is once we get your related searches looking the way you want them, they remain fixed with little or no maintenance.
Bing and Yahoo Related Searches Fixed
Yes, we can and have fixed related searches problems in both Bing and Yahoo.
Bing's Related Searches are annoying because as of this edit in 2017, they appear in two places – both beside and at the bottom of search results.
Bing must really want people to click related searches! But don't worry, we can knock out the negative ones for you.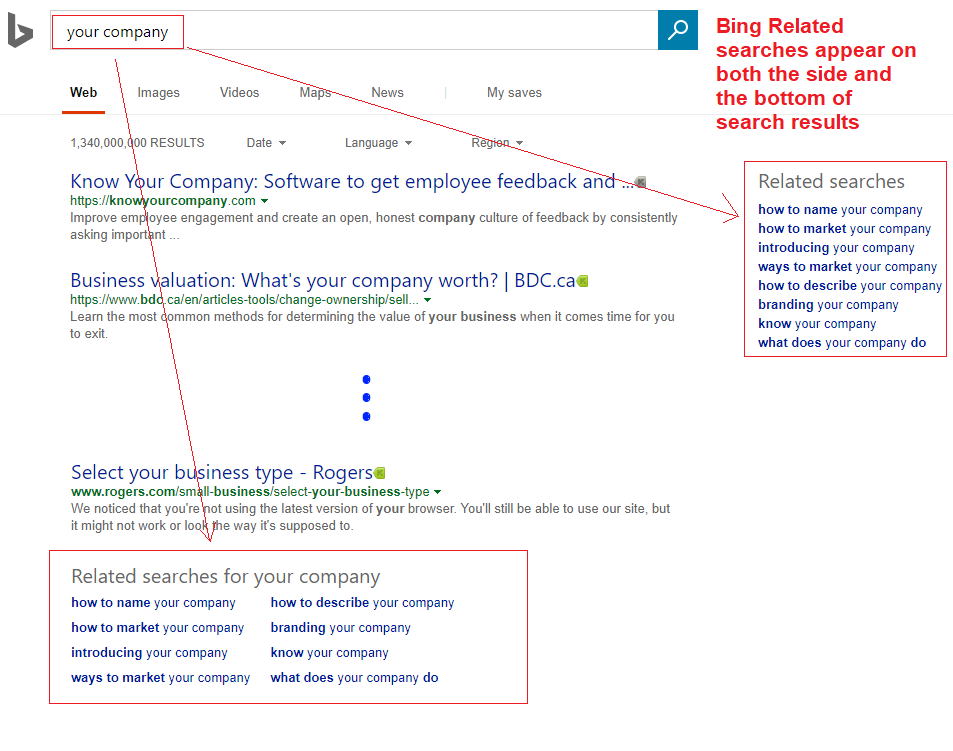 Yahoo related searches appear at the bottom of it's search results as "Also Try."
Yahoo related searches are historically slower and more difficult to change, but we've done it.
Remember, the flip side of this is once you get control of Yahoo "Also Try" suggestions, you'll probably never have to worry about them changing back to the negative.

FAQ
Are results guaranteed?
Since we don't control Google, Bing, and Yahoo algorithms, it's impossible to guarantee a fix.
However, we get successful results in over 90% of the cases we take on.
Who does the searches?
We have a huge team of people in the United States that we pay to perform searches.
These are real people and we've verified their IP address as US.
Can I just put my search terms on a crowd source site?
Sure, you can. But it won't work.
And any reputation management firm trying to manipulate Google, Bing, or Yahoo Related Searches using crowd source sites will fail 90% of the time.
These sites leave a footprint Google can detect. For your best chance of results, hire us.
How long does it take to get results?
We usually start seeing our search suggestions appearing within 2-3 months.
Every campaign is different, some get fixed within a couple months, others take 6 months or longer.
Are you an expert in fixing Related Searches?
Yes. I challenge you to find anyone in the world with success rates like ours in removing negatives from Related Searches.
Most firms claim they can fix the problem, then take your money and do nothing.
I'm transparent – above, I have laid out exactly what we do and how we do it.
You could take the info and do it yourself or if you want it done right, hire us.
The key to our success in fixing Google Autocomplete problems has been the development of our private team of real people located all over the United States.
We do not use crowdsource sites, proxies, or BOTs to perform searches.
We take precautions to best ensure our search activity appears natural to Google and that's how we get such outstanding results.
How do I get started?
Fill out the contact form on this page. We'd love to help you gain control over what people see when they Google you!