Here's our complete guide to Reputation Management for Small Businesses.
This is do-it-yourself advice for those small business owners who want to proactively protect their online reputation or for those who may have negative press or bad reviews they'd like to improve upon.
Of course, we provide affordable online reputation management for small businesses if you'd like us to handle the work for you. Feel free to reach out for a consult.
Strategies For Reputation Management for Small Businesses
1 – Determine your keyword
Your keyword is usually your business name. (See below for determining whether to use your personal name or business name.) I recommend focusing on the most commonly used version of your business.
For example, if you're legal business name is Houston Garage Doors LLC, but you're known as Garage Doors of Houston, I'd recommend using the latter, especially if this is the name you're using on your website and social media.
If you're not sure, one way to check is to see which version of your business name has more pages on Google.
Visit Google and search for the two versions, using quotes around the names. Select whichever one has more results, according to Google.
First, check "houston garage doors llc" – you can see it has 6 results.

Now, check "garage doors of houston" – you can see it has 3,030 results.

In this case, I would choose Garage Doors of Houston as my keyword, as there's much more content with this brand online.
Personal Name vs. Business Name?
Here's another example, as many small business owners face a dual challenge because you have two brands to protect:
Your personal name
Your business name
In fact, if your personal name is completely different than your business name, you're probably going to see two different sets of search results when you Google each of these terms.
You might also like: Personal Reputation Management
Check out the comparison below between the Google search results for "Shawn Dunigan" and "ABC Electric," the company he owns.
(Please note, I pulled this example randomly, I don't know Shawn or his company, nor have we done any work together. It's merely for demonstration).
As you can see, the "Shawn Dunigan" listings on the left indicate Google thinks we are trying to find a person and thus the top 3 search results are LinkedIn and Facebook. Only the BBB and OreColNECA.org listings are related to the business itself.
The "ABC Electric" search results on the right are 100% about the business and includes the business website, internet business directories, the business's Facebook page and it's Google Business listing at the far right.
Not a single link is shared between the page 1 search results for the two terms.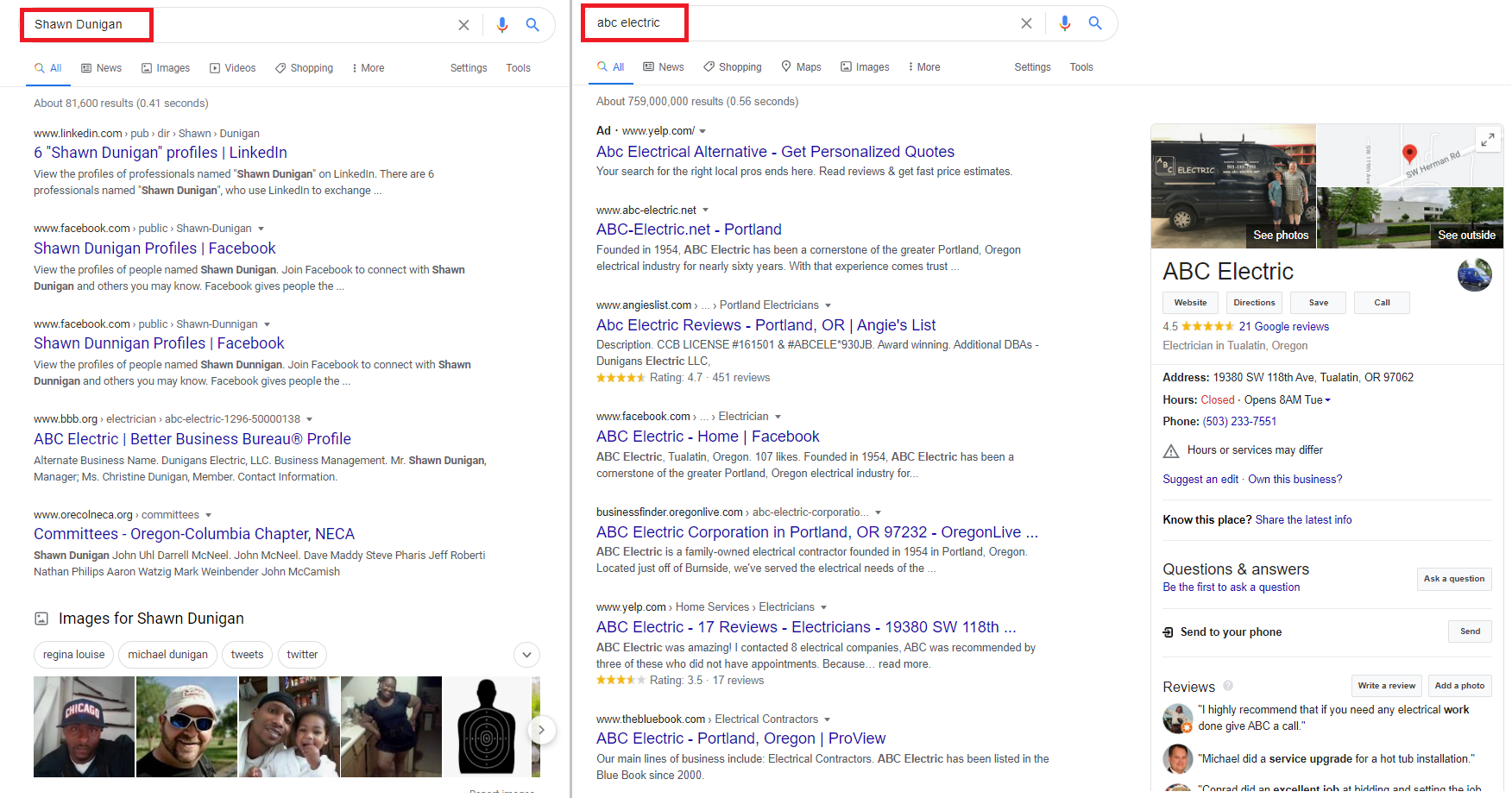 So, if you are a small business owner, you'll want to regularly check both of your brands to see how the search results look.
You might have negative links that appear for your personal name, but not for your business name, and vice versa.
In this case, you'll only need one online reputation management campaign targeted fully at improving the look of that brand on the internet.
However, in a worst case scenario, a negative article will appear on page 1 of Google for BOTH your personal name AND your business name.
In this case, you'll need two campaigns, one tailored to your personal name and one tailored to your business name. We've got strategies that can overlap and help both brands, but in most cases if your personal name and business name are distinctly different like the example above, you'll need two separate campaigns.
Now, let's take a look at the different strategies that can make an impact on each of your brands.
You can employee these strategies yourself or hire us and we'll do all of the work for you!
2- Make a strong website (with sitelinks)
Now that you know the brand name you want to focus on, Google it.
Your website should be the very first thing that appears. If not, I'd recommend contacting us to get a quote on a new and improved website that will rank better for your business name.
Ideally, you will see sitelinks like the ones below.
Sitelinks are the most important pages on your website, according to Google. Google's algorithm will analyze your site's structure and determine which pages to show as sitelinks. If you don't have any sitelinks showing, then follow these instructions to give yourself the best chance of having sitelinks appear.
Sitelinks are important because they take up valuable real estate at the top of page 1 of Google, thus pushing anything negative content further down the page.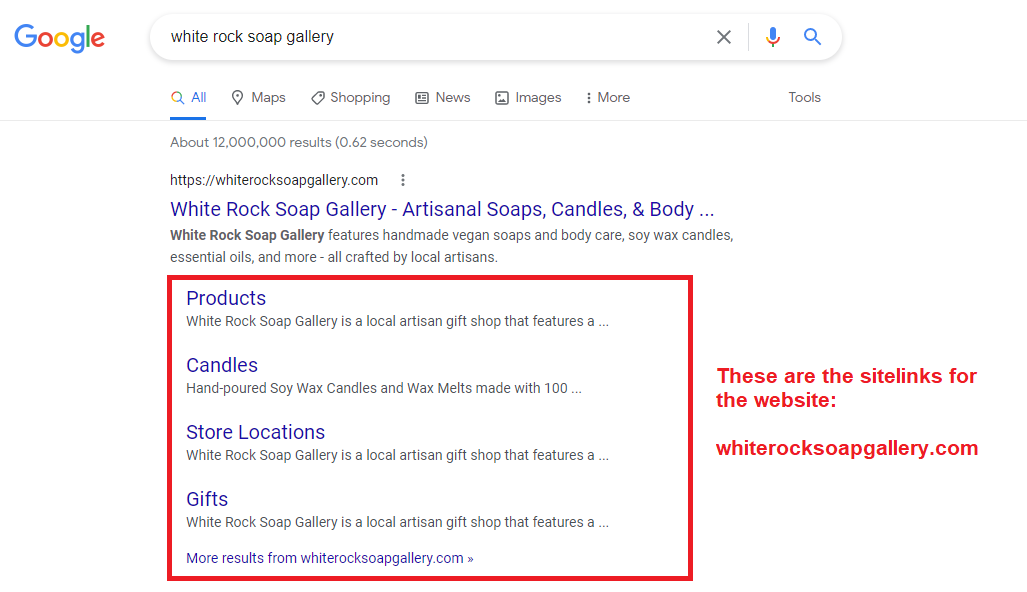 3 – Major social media
Google most any business and you're sure to see social media sites appearing on page 1.
That's because social media sites have high authority and trust with Google.
I recommend claiming your small business profile on these major social media platforms:
Facebook
LinkedIn
Instagram
Twitter
Youtube
Make sure that your business name (from step 1 above) exactly matches the name you give to each social media business profile. Then place a link on your website to each social media link and vice versa.

4 – Online business directories
There are thousands of online business directories where your can list your small business. You're probably already listed in a lot of them because many directories "scrape" the internet and automatically add you.
Some directories will allow you to claim your page for free and add things like business hours, description, website, and more. Take advantage of this at every opportunity.
To prioritize which directories to focus on, I recommend you Google your business and 2-3 of your competitors. Make a list of all of the business directories you see on page 1 and 2 and start with those. They'll have the best chance to rank.
Some common business directories that rank well include:
BONUS: If you're an active member of any chambers of commerce or specialized business directories, make sure you have a full profile listing of your business on those sites, as they usually carry high domain authority and rank well.
Getting listed in quality business directories can be overwhelming because there are so many. Just take your time and try to knock out 1-2 per week.
5 – Niche small business directories
Claim and optimize niche internet business directories – contractors/trades usually see things like Angie's List and HomeAdvisor. Dentists, physicians and other medical professionals will want to claim and optimize Healthgrades, Vitals, Zocdoc, and WebMD, and others.
Lawyers can participate for free in niche directories like Avvo, SuperLawyers, FindLaw, Martindale and others.
A good way to find niche directories is search for your business and go 5 pages deep. Then search for a few of your competitors and look at the first 5 pages of results. Make sure you're listed in every niche directory you see in the first 5 pages. Chances are good that 1 or 2 of these will move up to page one and bump any negative stuff down a bit.
6 – Employer directories
Get listed on employer feedback sites. Glassdoor and Indeed are two of the best known employer sites and are very strong. There's a good chance at least one of them will appear on page one for you.
Advanced Strategies for Reputation Management for Small Businesses

6 – Business profile on advertiser website
Getting a small business profile on websites of vendors you spend money with can be a great way to have that page in Google search results.
The reason is most sites, especially radio, newspaper, television have been around a long time and are respected by Google. So, pages on sites like these will rank well.
Below is a page 1 listing for Zenaptic Chiropractic.
View a more extensive guide at: How To Leverage Your Vendors To Improve Your Online Reputation
There are some fantastic interview websites and small business owner podcasts out there. All you have to do is reach out. Many of them are free or charge a nominal fee to get published.
Here are a few to get you started:
IdeaMensch
Inspirery
DotComMagazine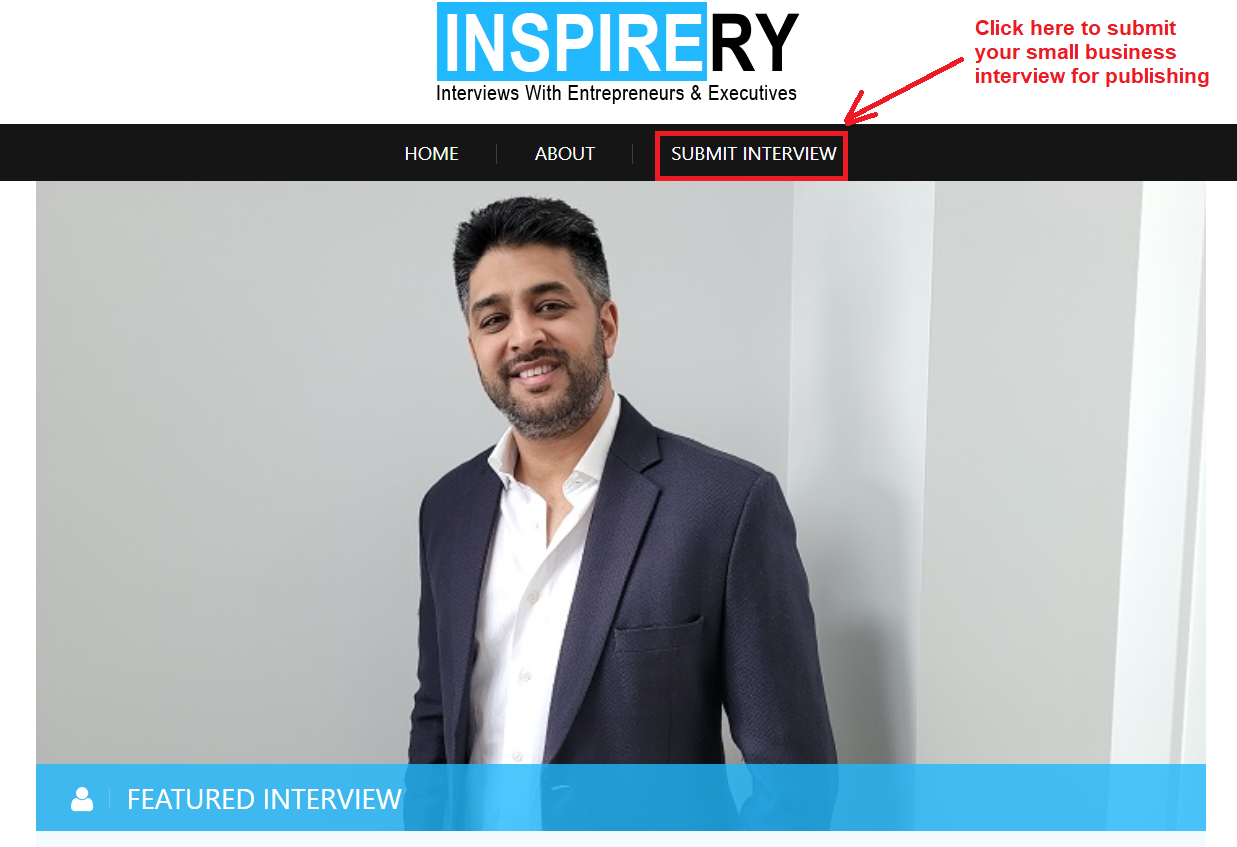 These sites and others feature interviews with small business owners and companies who have an interesting story to tell.
For podcasts, check out this list of 20 small business podcasts. When these podcasts get transcribed and added to a website, they can rank extremely well in Google and really help you build your online presence.

8 – Press releases
If you've tried in vein to pitch your story to local media only to fall flat, there is an easier option available: paid press release distribution.
Here's how it works. There are several companies who've built a distribution network of hundreds of websites. When you pay to have your press release published, they will distribute your news to their network, many of whom will pick up your story and publish it on their website.
Look at the results of this Google search for paid press release distribution services.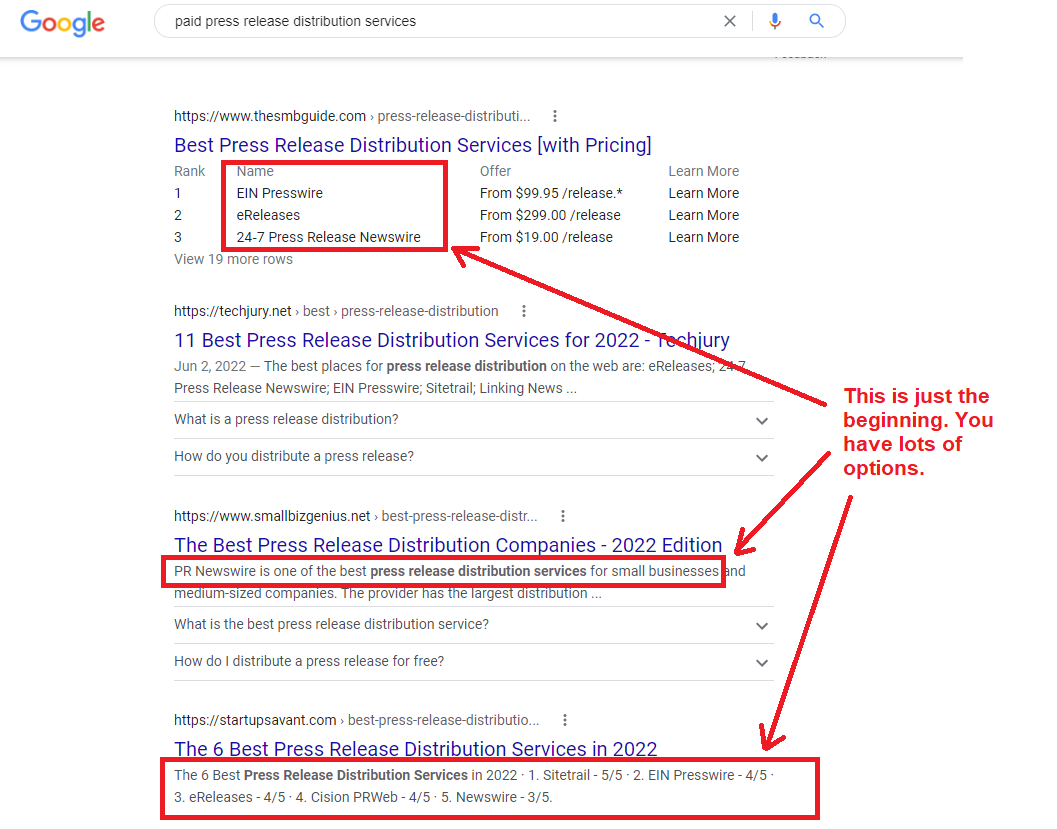 Usually, these services will have one main website, such as EINPressWire.com or PRNewsWire.com, where your press release gets guaranteed publishing. These sites are strong and publishing to them can result in an easy page 1 listing for your business.
Make sure you include your keyword (your small business name from step #1) as the first thing in the title of the release. Putting your business name first in the title gives your release the best chance of ranking in Google.
For example, "[Your Small Business Name] Announces Expansion of Manufacturing Facilities"
Be sure to include your small business name a few times in the release, too. A good way to do this without being spammy is by using quotes from executives of the company.
For example, "[Your Small Business Name] VP Joe Smith had this to say: We're very excited about the new facilities…."
Finally, include a link back to your small business website and social media links, if permitted. The advantage here is the more sites you get published on, the more links you get back to your site, making it stronger in Google. Adding your social media sites sends another strong signal to Google that when people search for your business, Google should show your social media sites, as well.
9 – Link building
Link building is the process of getting links from other reputable websites back to your website, social media, and any other positive content you control, like those items mentioned above.
Link building is an art all it's own. You can spend thousands of dollars with agencies who specialize in link building for online reputation management for small businesses.
But my recommendation is to cover the basics by yourself.
Make a list of all your positive online content under your control, including:
Your website (from step #2)
Each of your social media profiles (from step #3)
Any leveraged media sites (from step #5)
Interviews (from step #6)
Press releases (from step #7)
Then cross-promote your content each time you publish something new.
For example, your byline in one of your interviews could say, "View our latest press release at [link to press release] and follow us on [twitter page link] and [facebook page link]."
I've already mentioned putting your social media links on your website and vice versa and the more you tie all of these links together, the more you signal to Google that this little "intranet" of yours is all connected. This tells Google that when someone searches for your small business name, they should show all of these things because they are linked together.
It's the best way of protecting your small business reputation.
Reputation Management For Small Business [Video]
Conclusion
I hope you find the advice in this post helpful for improving your small business's online reputation. There are many things you can do yourself or have a marketing admin in your office carry out for you.
Of course, if you'd like to focus on running your business and rely on us to do the work for you, we're happy to help.