If you're a business owner trying to push down negative content for your personal name, the "About Me" strategy can help you.
This online reputation management strategy is good for business owners who meet the following criteria:
They have a business website
They're trying to push down negative content in Google for their personal name
Please note, this strategy has nothing to do with the website about.me. About.me is a web 2.0 site that lets you create a web page all about you on their platform for free. You can give it a try, but it's not what this post is about 🙂
How The "About Me" Strategy Works
The goal of the "About Me" strategy is to push down negative links in Google by using basic SEO fundamentals to get two pages on your business website to rank higher.
If you properly optimize the home page of your business website and the "About" page of your business website, you give them both a chance of ranking higher in Google and thus suppressing the negative content you want to displace from page one.
How To Optimize Your Business Website Home Page To Rank For Your Personal Name
Most business owners do an excellent job of optimizing the home page of their website to rank for the keywords they want to be found in Google for.
But sprinkling in your personal name into the content and SEO title of the home page can help it rank higher when you Google your name. Let's take a look at an example.
IMPORTANT: This business website was chosen at random to help illustrate my point. Jeremy Hicks is not a client, nor do I have any affiliation with him or his business.
Hick's HVAC in Nashville is owned by Jeremy Hicks. Let's assume Jeremy has an online reputation problem (he does not, by the way, this is just an example), and he's trying to push negative content down, so that when you Google his name, it's not on page one.
The first thing he could do is optimize his home page to rank better for his name by using a couple SEO basics.
1. Optimize SEO Title to include his personal name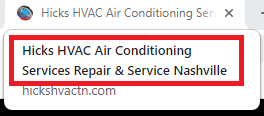 On my desktop PC, when I hover my mouse over the tab in my Chrome browser, I'm able to see the full and current SEO title, which is optimized to rank for Nashville HVAC.
The full title is "Hicks HVAC Air Conditioning Services Repair & Service Nashville."
If Jeremy wanted to try to rank the page for his name without disrupting his SEO for Nashville HVAC, I would include his name in the SEO title of the page like this: Nashville HVAC Air Conditioning Repair Service, Jeremy Hicks
This new title is 60 characters long, which keeps it at the max character length for SEO titles as recommended by Moz.
If it were me, after this optimization was done, I would double check the title to make sure all 60 characters were showing and if they weren't, I'd remove the word "service" which I don't think would hurt keyword rankings.
By shortening the title tag to under 55 characters, it would serve to ensure Jeremy's full name is in the title and picked up by Google's algorithm.
2. Add his name within the content of the home page

As of this writing, you can see the word "Jeremy" mentioned twice in one of the reviews on the home page. This is excellent.
If I were trying to rank this home page for "Jeremy Hicks"; however, I would edit "Jeremy" to "Jeremy Hicks."
I'd also consider adding a couple more reviews that include his full name.
Another way to include his name in the content would be to simply add a line like "Hicks HVAC is owned by Jeremy Hicks."
This could be placed in the footer or anywhere on the page where it looks natural. I'm not advocating to make major changes to the home page or do anything that looks spammy.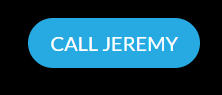 Lastly, there is a "Call Jeremy" button which is a nice personal touch.
Updating the button to say, "Call Jeremy Hicks" would be one more way to get his name into the content and thus signal to Google that it should rank this website home page higher when his name is searched.
You might also like: Reputation Management For Small Businesses
How To Optimize Your Business's "About Me" Page To Rank For Your Personal Name
This step is how this post got it's name!
Most businesses either have an "About Us" or "About Me" page on their website. In Jeremy's case, the page is "Why Hicks."
Optimizing (or creating) your About Me page on your website is a layup for getting it to rank better in Google.
We're going to follow the same SEO basics as we did for the home page and add a few more to really hone it in and help search engines rank it higher.
1. Optimize SEO Title to include personal name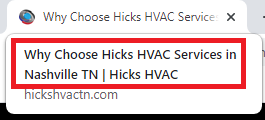 You can see the current title in the image.
If I were trying to optimize this page for Jeremy's name, I'd make it like: About Jeremy Hicks and Hicks HVAC in Nashville
Many SEO experts believe that the closer keywords are to the front of the title, the better the page ranks for those keywords.
Based on this theory, you could even remove the word, "about" if you wanted to.
2. Optimize slug to include personal name

The slug is what comes after the slash, so I'd put Jeremy's name in the slug, too. It's one more signal to Google what the page is about.
I'd create a slug thats: hickshvactn.com/jeremy-hicks
Keep it simple. We want this page to rank for his name, so let's just put his name in the slug.
3. Optimize H1 tag
When I view the source code, I can see the page has two H1 tags. That's a no-no.
I'd recommend a single H1 tag for clarity, placed near the top of the page that says, "About Jeremy Hicks."
It's not spammy, it describes what the page is about, and that's exactly what Google recommends you should do.
3. Name in content
Without being spammy or unnatural sounding, use Jeremy's name a few times within the content of the page.
If you focus the About page as if it were an interview, this becomes pretty easy.
A couple good ways to do this include:
Write the page in 3rd person, i.e. Jeremy Hicks launched the business in ……
Include quotes within the page, such as, "It was tough at first," Jeremy Hicks says, "but within a year we turned a profit."
4. Make it long
There are numerous case studies putting forth the idea that longer content ranks better including this one from Search Engine Land.
That article recommends 2,000 words, which can be a lot of work, but well worth it, if the About page moves up in Google and pushes down any negative links.
I always recommend a minimum of 1,000 words for any interviews or content pages you have control over.
Longer is better.
5. Keep it unique
If you're doing serious online reputation management work, you're going to want each page of content you produce to be 100% unique from every other page of content.
Don't copy and paste, don't do rewrites.
If your bio already appears on the web in other places, make sure that what is on your website's About page is different.
Google's algorithm is not going to rank two pages with very similar content well.
It will pick one to rank and disregard the other one.
"About Me" Strategy Wrap Up
I think what I love most about the "About Me" strategy is it doesn't require you to invest in anything else.
All you're doing is optimizing two pages on your website to rank better in Google for your personal name.
It works because most business websites have been around awhile. The sites have collected lots of organic links and domain authority over the years, so the website is an excellent ranking tool.
When business owners give us access to their website, we handle the changes ourselves as part of our affordable online reputation management services.
But it's something you can try for yourself if you want to jumpstart your own work.
Wishing you the best of luck and just reach out and contact us if you need help.