We provide Trellis.Law Removal services to get rid of public court records that are not sealed.
If your Trellis.Law court case record has been sealed, you can get it removed yourself.
Read below to understand each one.
Sealed Records
If you've already gotten your public court record sealed by the court, removing it from Trellis.Law is easy.
When you visit this page on the Trellis website, you'll see a screen similar to the one pictured below.
In order to get your sealed public court record removed from Trellis, you will need to follow these steps:
Enter your name
Provide the exact URL of the record to remove, this will look like trellis.law/case/yourcaseID
Answer YES, that the records are about you
Provide explanation on why you want the records removed
Upload the court order sealing the record
Hi "Submit Request"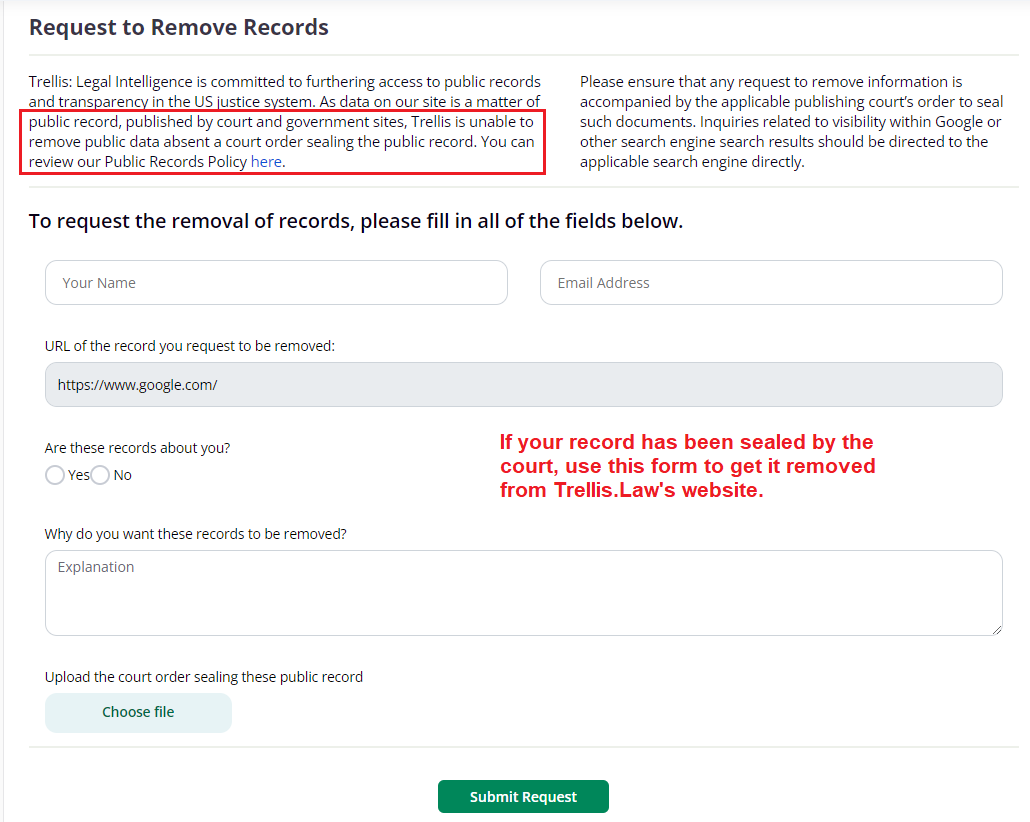 Unsealed Records
You can see it's stated in the boxed RED section in the image above that:
Trellis is unable to remove public data with a court order sealing the public record.
If you've worked with an attorney and have not been able to obtain a court order to get your record sealed, this is where we come in.
We can get your unsealed Trellis.Law Record removed permanently.
As we discuss in the video below, the exact process for removal of unsealed public court documents on Trellis is unknown.
However, it is guaranteed and permanent. You don't pay us until after you verify for yourself that the record is gone.
Please request a quote and include a link to the page on Trellis.Law you'd like to be removed.
Tips from the video:
Work with your attorney to see if your record can be sealed: If it can, you can get it removed yourself for free
Removal of unsealed public court records on Trellis is guaranteed
The process for removal is unknown, but our contact will get the job done in a few weeks
Payment is not due until after the record is removed
If you're on Trellis, it's likely that you're on other court record sites, too – each has it's own process for removal
You might also like: Remove Court Records
What Is Trellis.Law?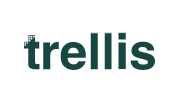 Trellis.Law is an aggregator of legal information. Much like other public court record websites (Justia, FindLaw, CourtListener, Unicourt, etc), records that appear on Trellis are in the public domain, which means it's permissable for them to be published.
Sites like Trellis generally scrape available information on the web to create a huge central database of state trial court data.
Then they organize that data and make it easily searchable for litigators to do research.
Trellis charges a subscription for access to it's data and it's not just for lawyers – anyone willing to pay can gain access to their large database of public court records.
As mentioned in the video discussion above, if you're on Trellis, you're probably on some of the dozens of other legal aggregator websites, too.
Why Remove Trellis.Law Records?
The problem with public court records on Trellis is they may appear in search results when someone Googles your name or business name.
If you've had legal trouble, filed for bankruptcy or been involved in a lawsuit, this might not be the type of thing you want everyone to know about.
We believe you're entitled to keep your private life to yourself and that's why you'd want to remove Trellis and other court records that are in the public domain.
We feel it gives you a better chance of explaining yourself, rather than people Googling you and making a snap judgement without hearing your side of the story.
This is just one part of protecting your online reputation.
Contact us to get an affordable, confidential quote.
How Do I Remove A Court Case From Google?
As mentioned above, the main reason why you would want to get a court case removed from Trellis is because it is appearing on Google.
In fact, Trellis isn't really the problem, because most people don't even know about the site and will never use it.
Google is the problem.
And as stated on the image above and on the Trellis website, "inquiries related to the visability within Google…should be directed to the.. search engine…"
And the only way Google (in the United States) is going to the remove the record from it's search results is with a court order.
So, again, if you don't have a court order sealing the record, you're back where you started; you need a third party to intervene and get the document removed for you.
Wrapup
I hope you've found this post on removing court records from Trellis. Law helpful.
If you need assistance with Trellis or any of the other legal aggregator websites, please reach out and let us know how we can help.